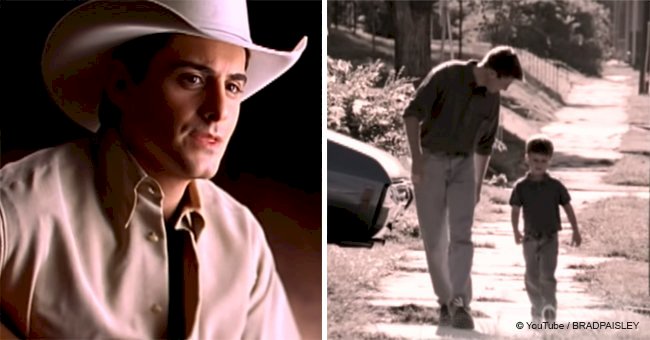 Brad Paisley brought audience to tears with moving tribute to his stepfather in a song
Country icon Brad Paisley used his second-ever musical release to pay a tribute to stepfathers who step up to become a father figure in the life of the children of the women they love.
In Paisley's staple song, "He Didn't Have to Be," the artist praised the unbelievable character of any person who would go out of their way to be a role model in the life of their stepchildren.
Written jointly by Paisley and his longtime songwriting partner, Kelley Lovelace, the song was actually inspired by Lovelace's relationship with his stepson.
A Facebook post from Classic Country Music Stories shared the story behind the composition of the popular song.
Follow us on Twitter to learn more.
One evening, Paisley was at Lovelace's apartment in Bellevue, West Nashville. After having their dinner, the two artists went out to the terrace to see if they can create a song.
Right then, Lovelace's son walked out on to the terrace to give his father a goodnight hug. After observing their sweet bond, Paisley said Lovelace, "You sure do love that little guy, don't you?"
That's when the idea struck him. The country star added, "Let's write a song about him. Let's write a song that will make Karen cry."
Following that idea, Lovelace started to think about what he would want his stepson to say about him after he has grown up. Imagining that scenario, the two songwriters started crafting the emotional song and wrote it from Lovelace's son's point-of-view.
Most of the lyrics of the song are based on the life of Lovelace, his wife, Karen, and their son. When Lovelace started dating Karen, their son always accompanied them. When the pair got married, the young boy was exactly five years old just like the boy in the song.
Lovelace and Paisley finished writing "He Didn't Have to Be" that evening and completed the demo by next morning.
Previously, Paisley opened up to the Boot about the song and stated that the song was "probably the most life-changing three minutes" that he had ever written.
Paisley believed that he might have never gotten the record deal for his album without that song. "It broke the ice for me with radio. It was like you could see potential in it, and that's an important thing."
Paisley is one of the most iconic figures in country music scenario, who has delivered several hit numbers over the years on his own or through collaborations with other artists.
In 2011, a collaboration between Paisley and country star Carrie Underwood broke all records as the song went on to even win the collaborative video of the year.
Please fill in your e-mail so we can share with you our top stories!