Woman leaves food for a blind raccoon, then she spots 2 tiny 'bodyguards' with him
Eryn, from Illinois, gave food to her blind raccoon, then she saw two cats with him.
Since 2009, the raccoon had been going to Eryn's home to rummage for sustenance.
"He is at least 5 years old and has been coming to our house for about 5 years," Eryn wrote. "There is something wrong with his tapetum lucidum. His eyes shine bright green during the day. He is at least partially blind. He walks into things. He is afraid of the wind, high grass, birds, and snow."
Follow us on our Twitter account, @amomama_usa, to learn more and scroll down to watch the heartwarming moment in the video below.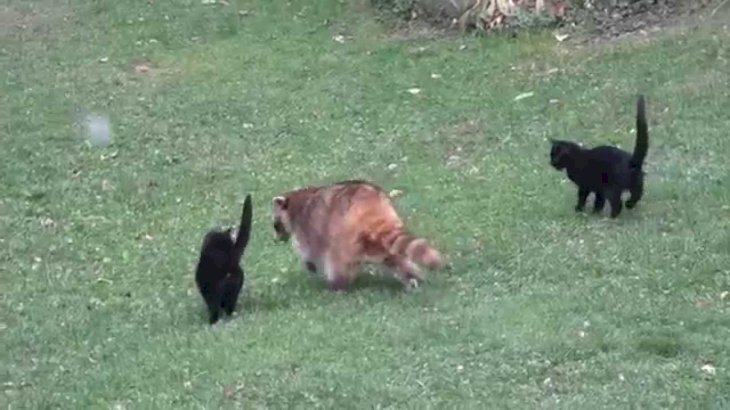 NEW FRIENDS
In October 2014, things were a little different when the raccoon appeared with two dark felines in tow.
From that point on, the raccoon would show up at her home with his two new cat companions.
In November 2014, Eryn was able to capture the trio on camera as they appeared for their breakfast. After eating, the cats would escort the raccoon again into the wild.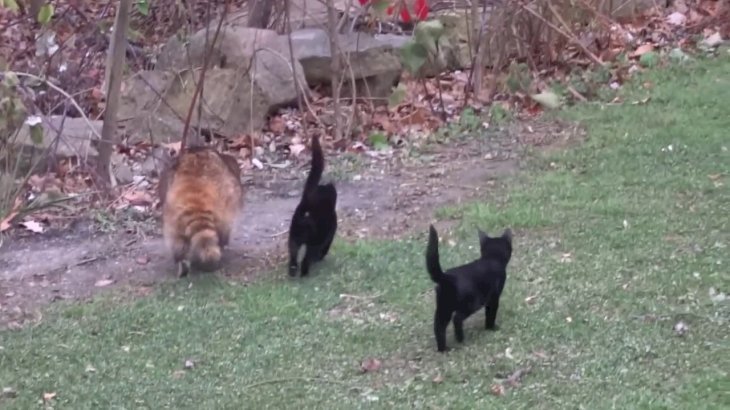 RACCOON'S DEATH
In June of 2015, the kittens showed up without the raccoon. The poor raccoon had passed away. At that time, he had just outlasted the average life expectancy for a raccoon.
"We don't know how he passed away but we hope that it was somewhere peaceful in the woods behind our house. We took care of him for more than 5 years," Eryn wrote.
"The average lifespan for a raccoon in the wild is only about 1-3 years. So a blind/handicapped Raccoon surviving at least 5 years is a pretty long time. He was a miracle."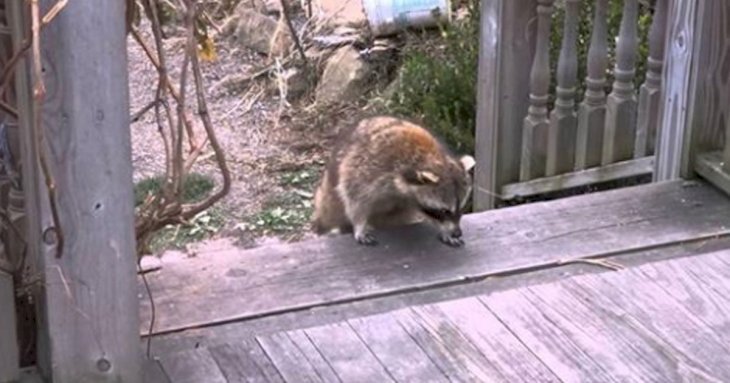 The felines were devastated without the raccoon. Eryn then decided to start the process of taming them.
She eventually adopted the kittens and earned their trust and love. They were estimated to be around a half year old.
"Turned out that I needed the black kittens as much as they needed me. Taming them helped me slightly cope with the loss of my mom and my 15 year old cat within 9 days of each other," Eryn wrote.
"Before mom came down with the flu that ended up sending her to the ER, she said that she wanted to keep the kittens… (and) didn't want them to get cold."
FULFILLING A WISH
The animal lover, with the assistance from her dad, was able to fulfill her mother's wish and gave the two cats siblings a loving home.
The blind raccoon led the kitties to a loving home, and now they are living out their dreams with another friend named Squirt.
According to Seattle Pi, Raccoons typically do not prey on domestic cats and dogs, but isolated instances of killings have been accounted for.