Melania Trump turns heads while gracefully dancing with orphans
On Wednesday, First Lady Melania Trump made a stop to Kenya on her solo African tour. There she visited The Nest Children's Home in Limuru.
The first lady was captured on camera holding hands and dancing with some of the orphans at the home. She kept things subtle and classy with her dance moves.
At The Nest Children's Home in Kenya, Melania Trump, 48, was greeted by a group of orphans who welcomed her in song. As she held hands with the youngsters she let loose and sashayed a bit but kept it simple.
The home cares for children who are orphans and those whose parents have been incarcerated. The children welcomed the first lady with singing and dancing.
For more on this story go to our Twitter account @amomama_usa. She was filmed walking up a pathway through the home holding hands with two children.
At Nest, Trump was briefed on the children living at the house. She also spent time cuddling several of the infants and was all smiles throughout.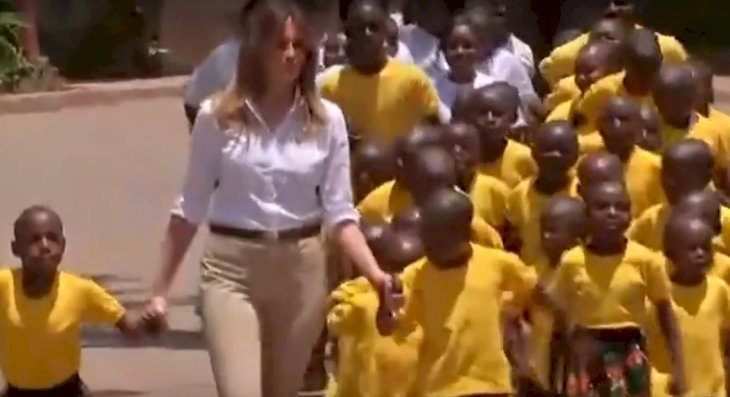 Source: YouTube/Faisal B. Khan
The first lady had this to say:
"Thank you for what you do and taking care of them."
She held a baby girl who was originally handed to her wrapped in a blanket bearing the Be Best logo. Be Best is a child welfare initiative that Trump launched this year.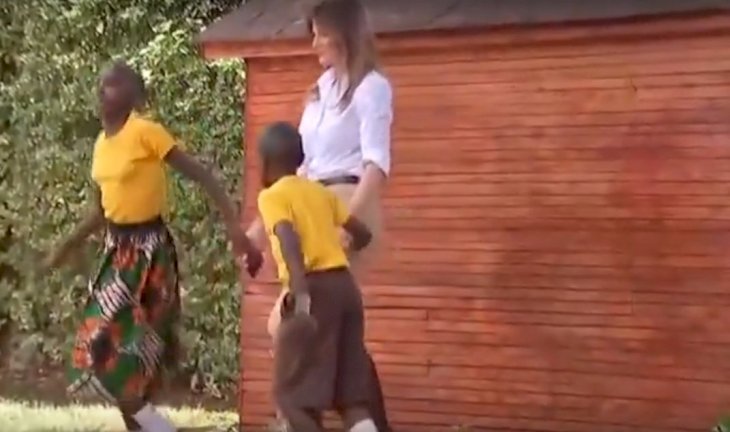 Source: YouTube/Faisal B. Khan
During her visit to Africa, she's promoted the initiative and was seen handing out some branded items like blankets. Footage showed Trump kneeling down to lift a boy from a mat before turning to face the media with him in her arms.
Outside the singing and dancing continued as the first lady was led to a chair to read a story to a group of children. After her visit to the home, Trump changed her safari outfit before meeting Kenyan First Lady Margaret Kenyatta at the State House in Nairobi.
Kenya was Trump's the third stop on her African tour. The tour began on Tuesday in Ghana and continued in Malawi on Thursday and her last stop was Egypt.
Her tour will feature as part of "Being Melania: The First Lady," which is set to air on October 12 at 10 p.m. ET.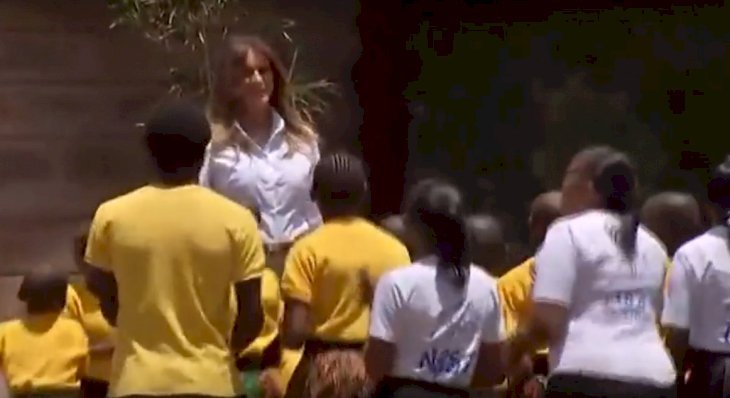 Source: YouTube/Faisal B. Khan
During her visit to Ghana, Trump went to the Greater Accra Regional Hospital where she watched babies being weighed. There she was drawn to an adorable six-month-old child, which the first lady cuddled.
Her visit to Africa is aimed to help promote child welfare, education, and conservation.
Please fill in your e-mail so we can share with you our top stories!