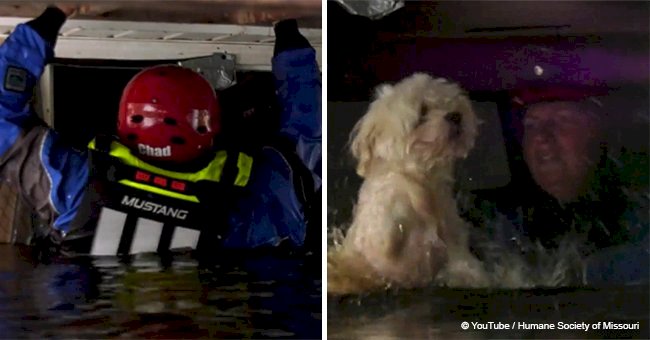 Rescuers break flooded house's door down and find a tiny dog that was trapped for almost a week
A poor Maltese terrier was trapped inside the home for a week following the onslaught of Hurricane Florence, a group of rescuers saved it, and the pooch was eventually returned to its owner.
On September 14, 2018, North Carolina was ravaged by the hurricane, and many residents were forced to leave the area.
In the middle of the calamity's aftermath, many rescue teams from around the country came to the state to help save pets who were left stranded and away from their owners.
One of those teams was the Humane Society of Missouri, nine members traveled to North Carolina and spent ten days searching through the communities, saving every animal they could find.
Follow us on Twitter at AmoMama USA for more details and updates.
OWNER ASKED FOR HELP
A resident from the Pender County was in a rush when she evacuated and, unfortunately, left behind her white Maltese terrier named Soshe. While she was in Wilmington, the dog was left inside her home.
The owner was emotional when she called her friend to ask for help. She asked her friend to stop by her home to check if Soshe was still alive.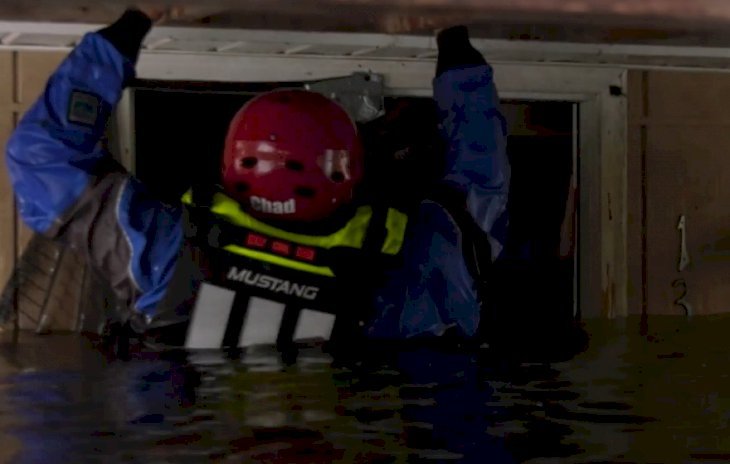 Source: Facebook/ Humane Society of Missouri
Meanwhile, the Humane Society Missouri learned about Soshe and wanted to help. They went straight ahead and searched for the home, only to find out that the waters had reached the rooftops of the entire neighborhood.
To add to their worries, their boat broke down, and they had to paddle through the murky waters. Luckily, the flood had gone down, which made it easier for them to find the house.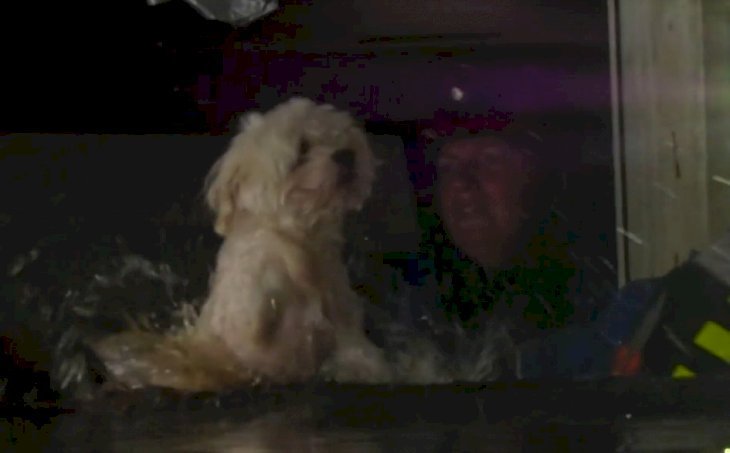 Source: Facebook/ Humane Society of Missouri
THE RESCUE MISSION
Upon nearing the home, they already heard Soshe's desperate cries for help. While it was painful to listen to the pooch's helpless barks, the team was happy that Soshe was still alive.
Later on, it was revealed that Soshe had spent an entire week floating on a couch and probably waiting for someone to come and save her.
Two of the team members broke down the door, and one of them swam inside the house to get Soshe.
SOSHE AND HER OWNER'S REUNION
Once she was outside and on dry land, the dog appeared very happy. Her rescuers gave her food, and she went straight into scarfing down her meal.
The Humane Society of Missouri's Disaster Response Team handed Soshe to a friend of the owner a few hours later.
It wasn't long until Soshe was given back to her owner, who expressed how grateful she was to have her beloved dog back in her arms.
OTHER RESCUE STORIES
Another team from New Jersey, led by a man who owns an animal rescue shelter, also went to North Carolina to help.
While saving helpless pets, they ran into a poor cow that was struggling to keep itself afloat.
It wasn't an easy task, but the team was able to get the cow to safety.
Please fill in your e-mail so we can share with you our top stories!