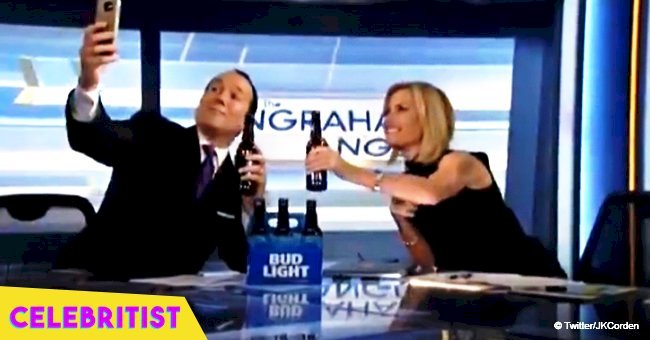 Fox News anchor tries to take a selfie but things go awry in viral video

Raymond Arroyo, a contributor to Fox News, fell out of his chair while trying to take a selfie next to host Laura Ingraham. Both of them were holding beer bottles.
During a segment of the TV news program, Arroyo talked about the "Selfie Suicide Movement," explaining that that at least 259 people have died in seven years trying to take dangerous selfies over the past years.
It is common to see photos on social media showing people on top of buildings or very tall structures, including the Statue of Christ the Redeemer or the Eiffel Tower, who risked their lives just to post something "cool" on social media.
STATISTICS ABOUT "SELFIECIDE"
Arroyo was trying to raise awareness about that situation during the segment, pointing out that while the official reports of the Indian Health Services revealed that only 259 people have died, there might be many more cases that were not declared.
FALLING OUT OF THE CHAIR
After wrapping up the note, Arroyo picked up a six-pack of beers, placed it on the table, opened one for Ingraham, and told her to take a selfie with him. However, while he was trying to find the perfect angle, he fell out of the chair, giving the segment a hilarious turn.
IT WAS PART OF A PRANK
Ingraham tried to remain professional as she looked directly at the camera and moved on to the following note while asking the medics to help Arroyo. It was later revealed that falling out of the chair was part of the plan as a way to make people understand that "selfiecide" was something real.
PEOPLE'S REACTION
As soon as the video was viral, several people, including celebrities like James Corden and Seth Rogen took to Twitter to share their thoughts on it. Most of them agreed that the video was very funny and that it was a clever way to finish a segment.
THE REAL PROBLEM
Newshub revealed that the majority of victims of "selfiecide" were students in India, Russia, and the US. Apart from that, they reported that most of the deaths are related to drownings, followed by falling from buildings/statues, and being crushed by trains.
One of the most disturbing incidents of that kind took place in Mexico in 2017 when the wing of a descending plane hit two teenagers as they tried to capture a selfie by an airport runway.
In Odisha, India, a man was mauled to death when he attempted to take a selfie with a bear. Even though "dangerous" selfies might attract a lot of likes, it's not worth the risk.
Please fill in your e-mail so we can share with you our top stories!