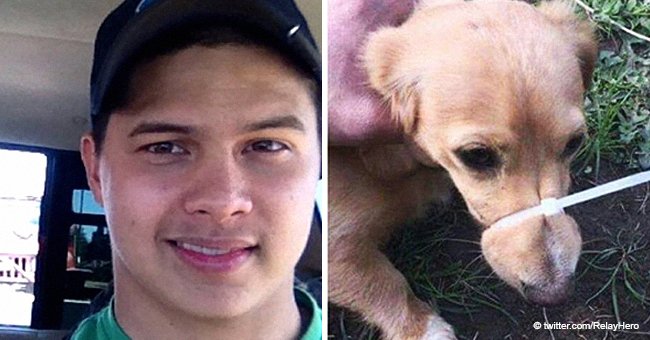 A man used a zip tie on puppy's mouth and bragged about it online
A cruel act by an Oregan man perpetrated against a helpless dog has outraged social media.
Sheela Deskins from Eugene Oregon is the proud owner of a puppy called Hank. Unfortunately for Hank, he is a happy, snappy dog who just loves making himself heard by barking.
This was unfortunate because Sheela had another man in her life, her boyfriend Matt McMichael, who is also from Eugene.
The trouble began when McMichael decided he didn't like Hank's barking and took matters into his own hands.
His posted a photo of his "solution" to the problem on Snapchat and has the Internet up in arms over his vicious act, reported RelayHero on October 8, 2018.
"When you're tired of the (expletive) barking!!!!!"
AN ACT OF UNTHINKABLE CRUELTY
The photo McMichael posted showed the poor dog with a zip tie locked around its muzzle. From the image its easy to perceive the dog's fear and distress.
McMichael posted a boastful caption indicating that this was the perfect solution for dogs who barked too much.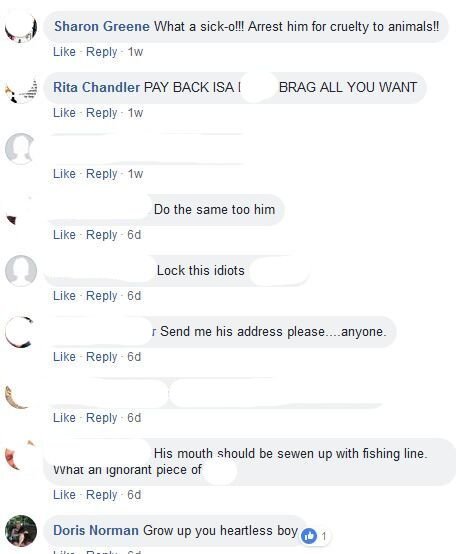 Source: Facebook/@petssouul
HUNDREDS MANIFESTED THEIR ANGER AND INDIGNATION
McMichael probably never expected the wave of condemnation his post aroused, and he quickly removed the post, but not before it had been shared on every social media platform.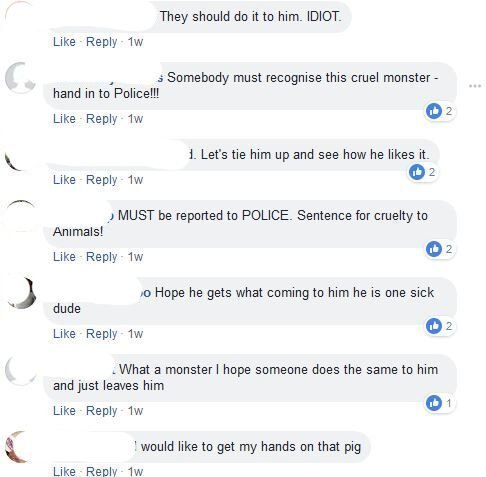 Source: Facebook/@petssouul
EUGENE POLICE WAS ALERTED AS TO THE ACT OF ANIMAL CRUELTY
Eugene police spokeswoman Melinda McLaughlin revealed that they had received 50 calls on October 3, 2018, through the Central Lane 911 dispatch center and 83 Facebook messages.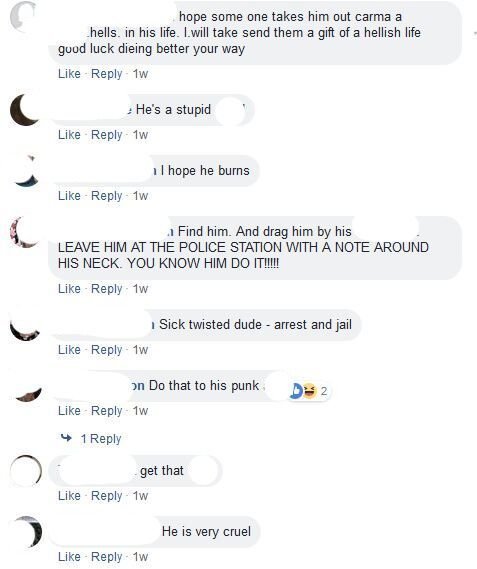 Source: Facebook/@petssouul
OREGON MAN LEAVES THE COUNTY TO AVOID PROSECUTION
The Lane County police discovered that McMichael had moved and was no longer residing in Eugene. They have passed the complaint on to the Harrisburg police where he is now residing.
Though McMichael laughed off the post as "a joke" both the public and the police are taking it very seriously, and he may find himself facing charges of animal cruelty.
Sheela Deskins' views on the incident, or where she was when her boyfriend was tying up her dog's muzzle are unknown.
HOW TO TAKE CARE OF YOUR DOG'S STITCHES
Caring and conscientious owners know how easily their pups can get into trouble. A run in the woods, a fight with another dog, and suddenly they are on their way to the vet with a bleeding pet.
Others may have to nurse animals who have undergone surgical procedures such as neutering, or the removal of abscesses or cysts.
In any of these instances, the result is an animal at odds with painful and itchy stitches they will be desperate to scratch.
PetHelpful.com has some useful hints on how to care for dog stitches and keep them clean until they are removed by the veterinarian.
Cuts, surgical incisions, and lacerations may be closed with stitches, sutures, staples, and/or suture glue, and you will need to keep those dry at all costs.
Healing is usually a 7-10 days process and stitches will generally be in place long enough to promote the healing of tissue.
Bathing a dog with stitches is not advised. The animal can be cleaned with baby wipes everywhere except the site of the incision.
Creams, ointments, or disinfectants should not be applied unless it has been directed by the veterinarian. Alcohol and hydrogen peroxide should never be used since these products will damage the tissue and prevent healing.
The best way to stop the animal from biting or scratching at his stitches is with an Elizabethan collar. As a bonus, it will also prevent the animal from licking at the incision and infecting the wound.
Please fill in your e-mail so we can share with you our top stories!