Homeless man gets job after video of police officer helping him shave beard goes viral
A viral video captured the moment a Tallahassee police officer helped a homeless man to shave his beard after he was told by a recruiter he could get an interview as long as he cleaned up. As promised, the man got his job and the hearts of millions of people across the country.
Officer Tony Carlson was in a gas station when he noticed a man struggling to shave his beard without a mirror. The man, known only as Phil, asked the officer if he knew how to fix a razor because it was missing a screw.
While trying to fix the razor, Phil told Carlson why he wanted to clean up so bad, and his story prompted the officer to help him in the only way he could: by helping him shave his beard. The random act of kindness was captured by some bystanders who shared it on social media, earning national attention almost immediately.
Talking to Newsweek, Officer Carlson said:
"He was trying to shave and get cleaned up for a possible job at the McDonald's next door. And the thing that caught me with Phil was that he was so excited that he may be getting a job if he just did this one simple thing. That's why I was so willing to help him out in any way that I could."
Local radio host Greg Tish saw the video and decided to find Phil to hear his side of the story.
"The lady told me if I can show up Monday clean with my beard cut off, they'll promise me a job," Phil said in a Facebook video. "I was out here trying to shave, but I can't see cause I don't have a mirror, so the Tallahassee Police Department shaved me up the rest of the way."
HE GOT THE JOB
After getting help from Senator Marco Rubio to sort out his ID and social security number, Phil was able to land a job as a janitor in the McDonald's, and the company allegedly promised "room for growth" in his new position.
The Tallahassee Police Department shared an update on Phil, posting a photo of the man alongside  officer Carlton captioned:
"We talked to Phil today! He's doing great & enjoying his new job at McDonald's. We received some gift cards for various restaurants from a former TPD officer to give to Phil."
Meanwhile, Carlton said on a mini press conference that his actions were not something "spectacular," as many police officers are often helping members of their community, not only in Tallahassee but all around the country.
Phil was in my #Tallahassee office today to fill out paperwork so we can help get his ID and social security cards for employment. Proud of my staff, @TallyPD, @cotfire for helping him get back on his feet. We're rooting for you, Phil! #Sayfie https://t.co/hKLkQxNFtQ pic.twitter.com/dQEGxhmaTY

— Marco Rubio (@marcorubio) July 26, 2018
"It happens all the time. It just so happens that this time someone caught it on film," he stated.
ANOTHER ACT OF KINDNESS BY A POLICE OFFICER AT A GAS STATION
Officer Todd Bing melted hearts all over social media when Seth Kazz, the manager of a petrol station, shared a photo of the touching scene he witnessed between Bing and 75-year-old Delores Marotta.
According to Kazz, Marotta arrived at his station to buy $3 worth of gas. The officer was behind her in line and overheard the conversation; he also noticed that the lady was walking with a cane and struggling to get back to her car.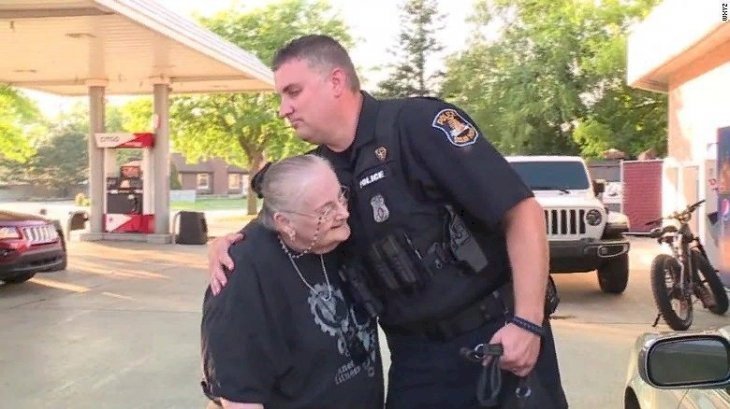 He trailed behind her and offered to pump her petrol while he sat in the car. After engaging in conversation, Bing learned that Dolores's husband passed away and she was struggling with their debts, so she only had the $3 left for gas.
Bing then returned to the store and put her another $20 of gas out of his pocket.
The random act of kindness prompted people to create a GoFundMe to help Marotta, and as of now, the campaign has raised $27,318 of the original $5,000 goal.
https://celebritist.me/106793-police-officers-simple-act-kindness-petr.html