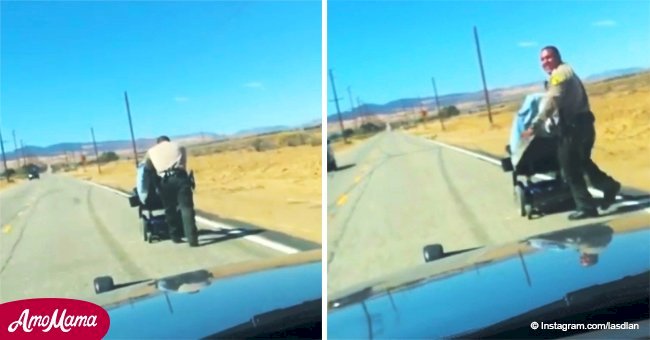 Officer realizes disabled woman's wheelchair doesn't work, so he starts pushing it himself

The Los Angeles Sheriff Department posted a heartwarming video of Deputy Montanez as he pushed the woman's wheelchair all the way to her home.
Deputies Montanez and Chapman responded to a rare and bizarre call last week. The report was of an abandoned wheelchair disrupting traffic on a road in Lancaster.
The two deputies arrived to find a motorized wheelchair not abandoned but occupied by an elderly lady. She was stuck in the middle of the road as a result of her battery dying out.
The post is found below.
Follow us on Twitter for more @amomama_usa.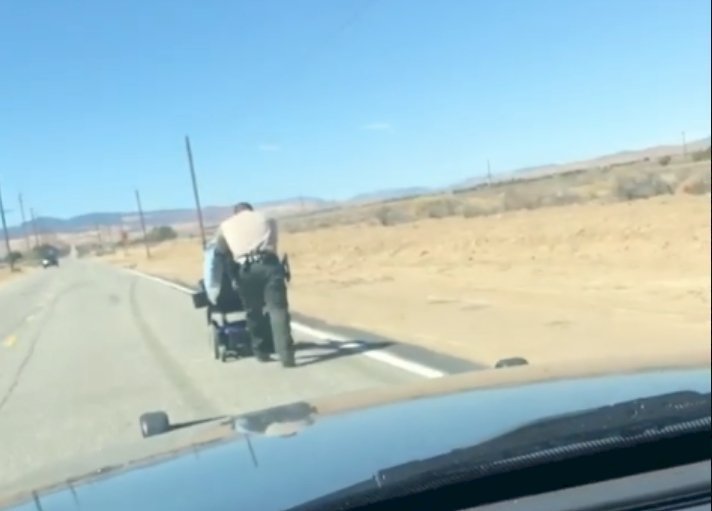 Source: Instagram/ lasdlan
Deputies Chapman and Montanez offered the woman a ride home. She was only about one mile away. But the woman did not want to leave her means of mobility behind.
The caption of the post explained the challenging situation:
"The wheelchair, being quite heavy and unable to fold because of the battery pack, did not fit in their patrol vehicle."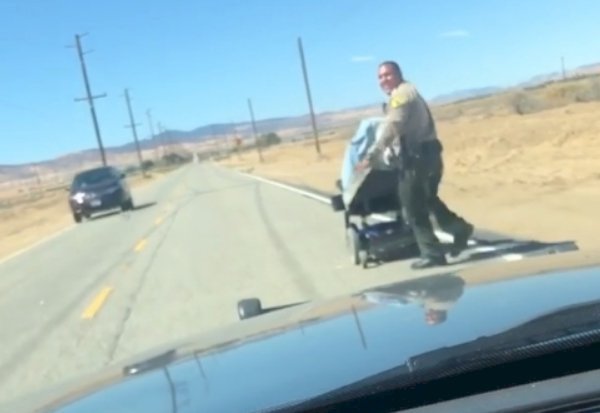 Source: Instagram/ lasdlan
The woman and the deputies were faced with a dilemma.
"That's when Deputy Montanez stepped up. He decided he would push the wheelchair to her home, about one mile, in full uniform and boots."
Meanwhile, Chapman playfully teased him. In the video he said:
"You can pick it up, we're only [going] about one mile an hour right now."
The elderly lady is heard letting out a small laugh at the friendly joke.
Something quite similar happened back in June 2018 when Bilal Quintyne went on his morning run in Smyrna, Georgia.
The man noticed a woman sitting in an electric wheelchair just off the road. She also became stranded when her battery died.
The woman hailed Quintyne and asked him to contact her husband. But Quintyne realized he could be of much greater help.
He said:
"She asked if I could call for help and I said, 'I'm in good shape. Where is your house? I'll take you myself.' "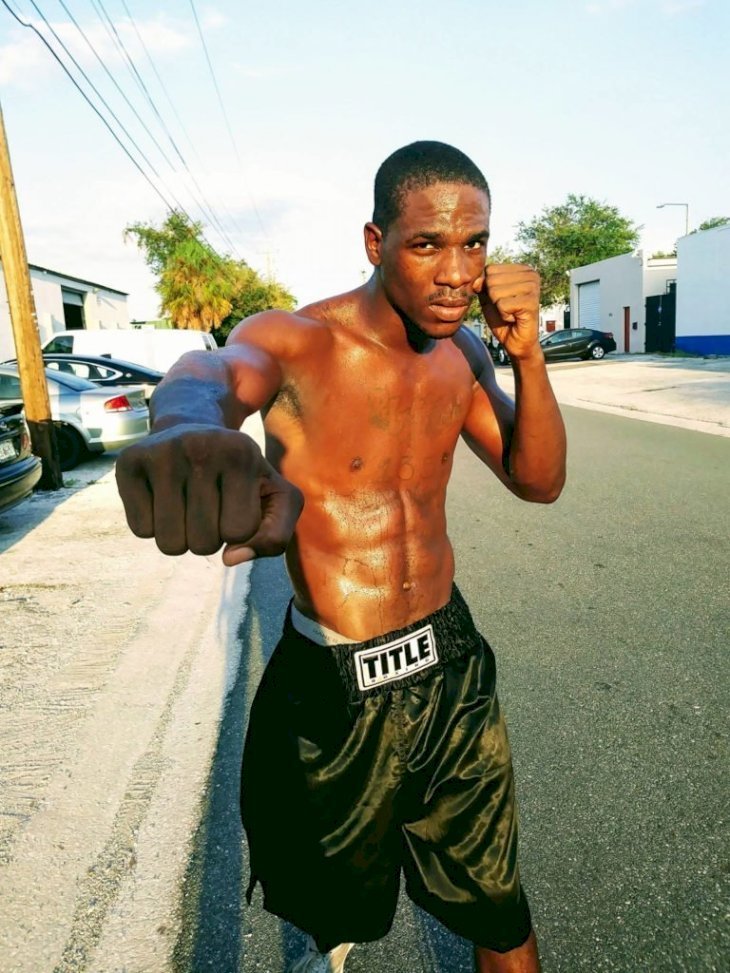 Source: Facebook/ Gifted King
Quintyne, an amateur boxer and general fitness lover, pushed the woman about a mile back to her home.
A portion of the journey was a steep hill that challenged the young man who had to walk under 90 degrees Fahrenheit weather.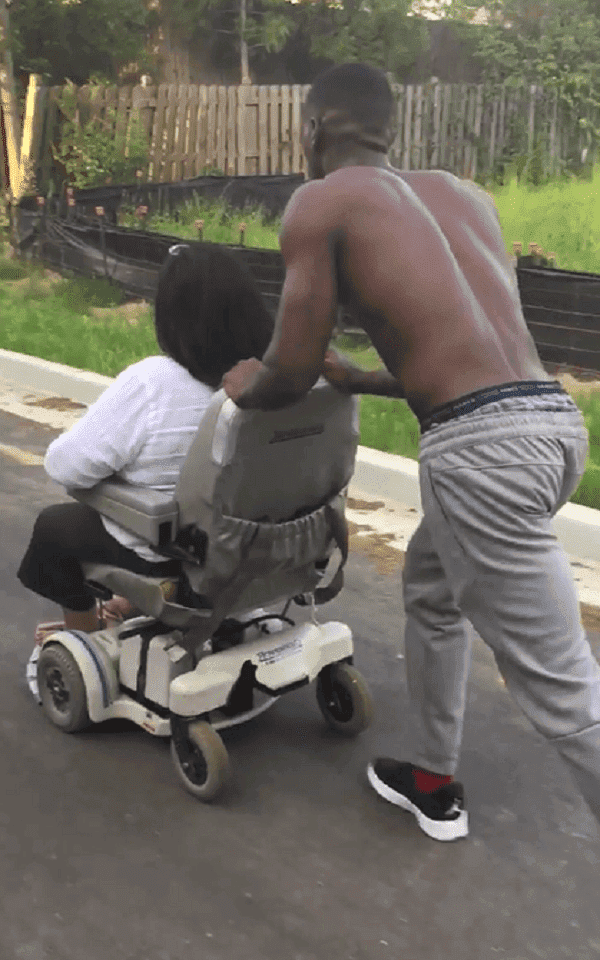 Source: Facebook/ Gifted King
Quintyne, however, was determined to assist where he could:
"I don't care what you're going through when God calls you for help, you're supposed to help. Period. Period. When He stops you and tells you to help, you stop and help. Period."
When he got to the woman's house, he made sure she was settled in. He further extended his help by offering "to go food shopping for her, but she wouldn't allow [him]."
Quintyne said the lady was extremely grateful and even cried as she was so touched by his actions. According to her, "many people had driven by without stopping to help."
Just last month, a disabled man got the help he needed when he was unable to get into a barbershop.
The man was trying to get into Joe's Upscale Barber Shop in western New York. After some time, he called the shop.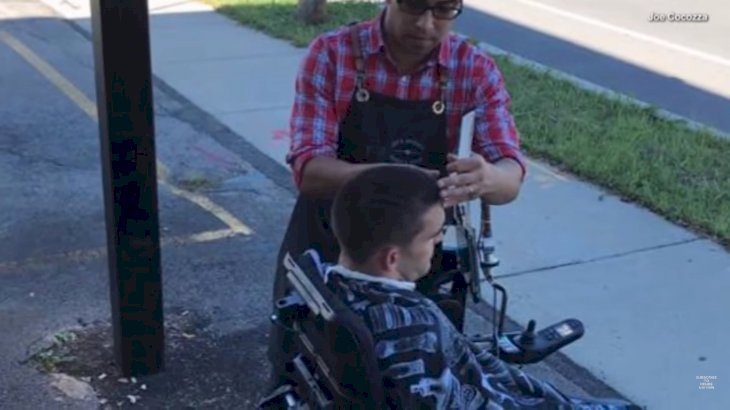 Source: YouTube/ Inside Edition
He got the attention of hairstylist Victor Burgos, who didn't hesitate to assist. Unfortunately, it was impossible to get the heavy wheelchair inside the shop.
Burgos came up with a solution:
"...so I took my cordless barber clippers, trimmers, shavers, and sheers, straight blade, comb - everything I need to give him the same haircut that he'd get if he came inside."
Source: YouTube/ Inside Edition
The video of the kind act went viral online. It also prompted community members to organize help to get a ramp for the shop.
Until that happens, Burgos said he will readily cut the man's hair on the sidewalk again or even at his home.
Please fill in your e-mail so we can share with you our top stories!