Disabled man in a wheelchair can't get inside a barbershop, but barber's response goes viral
A disabled man in a wheelchair wanted to get a haircut at Joe's Upscale Barber Shop one weekend but he couldn't get in the shop. Hairstylist Victor Burgos saw him loitering outside but couldn't figure out why.
Then the disabled man called the shop with an electronic device to ask if he could get service. Burgos didn't bat an eye-lid before assisting the man outside. 
Joe's Upscale Barber Shop is a western New York barbershop that caters to anyone who needs their service. One weekend, Webster resident, hairstylist Victor Burgos, 34, had to go out of his way to assist a customer.
Over the weekend, he was finishing up an appointment when he saw a man in a motorized wheelchair lingering outside the shop. A few minutes later, the shop's phone rang and the voice on the other side spoke through an assistive electronic device.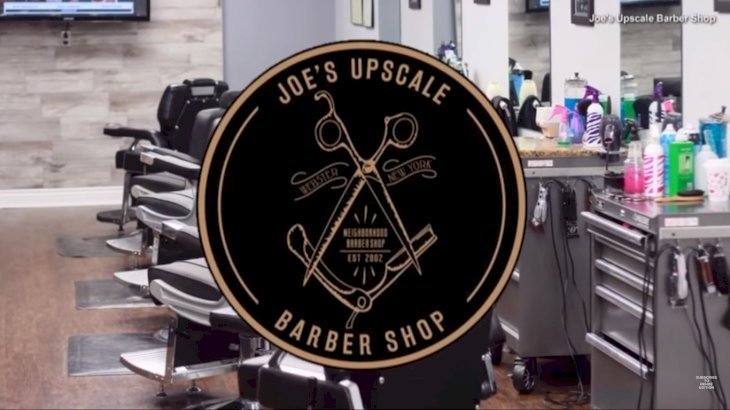 For more on this story go to our Twitter account @amomama_usa. Burgos said:
"As soon as he said, 'Do you guys take walk-ins?' I knew that's who was outside," Burgos said. "I immediately ran out there with two other barbers to see if we could get him in somehow."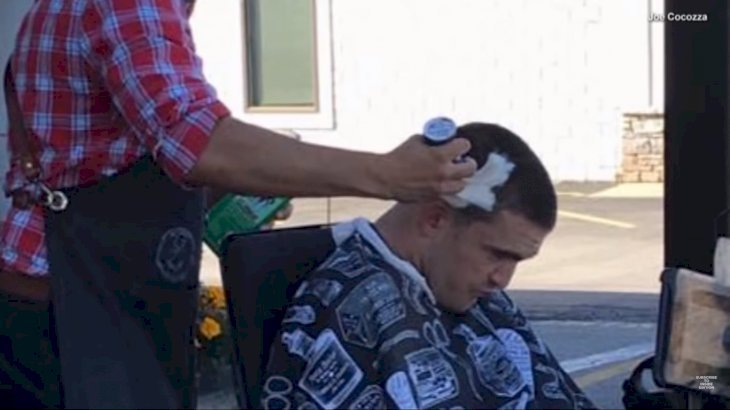 The hairstylist, who had been working at the shop for the last three-and-a-half years, explained that they were in an older building that didn't have a wheelchair ramp. Going outside, he realized that it would be impossible to lift the wheelchair up the steps.
"We weren't going to be able to get this heavy-duty thing in here so I took my cordless barber clippers, trimmers, shavers, and sheers, straight blade, comb – everything I need to give him the same haircut that he'd get if he came inside," Burgos stated.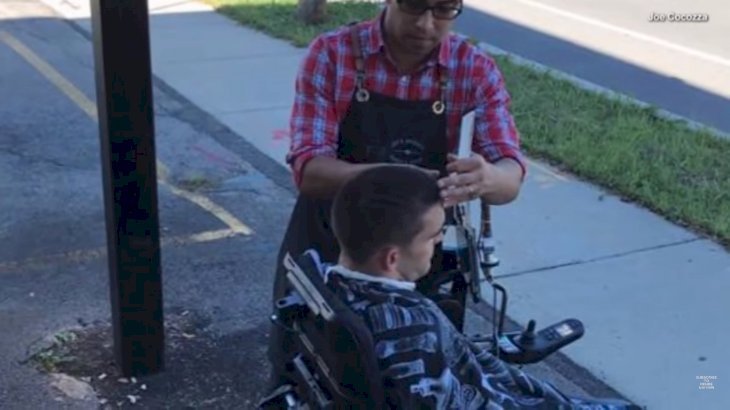 The hairstylist made a point to cut the man's hair right in front of the shop, to show others that he was as proud to cut his hair just like any other client. He added:
"It's about making sure everyone gets a proper grooming."
Burgos also confessed that he'd done some weird haircuts before,
"In hospitals and different wedding situations and, uh, never done anybody outside, on the sidewalk, pretty much."
The man was so satisfied with his experience that he even sent his aide to get a haircut in the shop a few days later.
Their photo with Burgos cutting the man's hair went viral on social media and community members have been organizing to help the barbershop get a ramp. Until then, the hairstylist said he would gladly cut the man's hair outside or even at his home.
Another wheelchair bound person was shown love on Tuesday. JP Price, 13, is a part of the Craig Middle School Bulldogs and holds No. 44, but he's never played football before.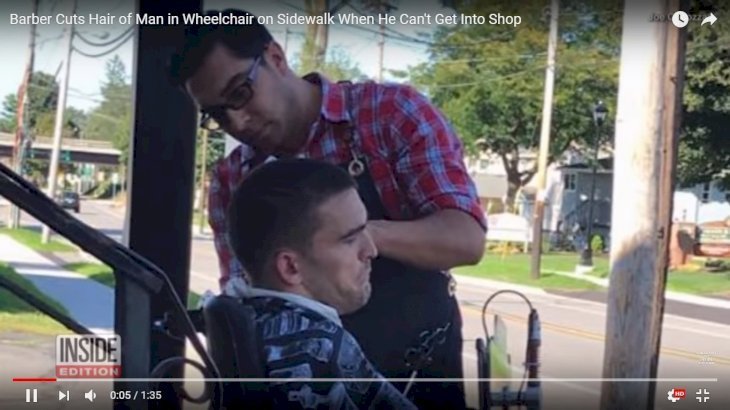 Price suffers from muscular dystrophy and needs a wheelchair. On the day, he got to take to the field during the second half of play after he was given a helmet and told to go.
Tristian, his younger brother, threw him the ball, and Price took off toward the end zone to score his first ever touchdown. The crowd went wild and the teenager broke into tears as he appreciated the gesture.