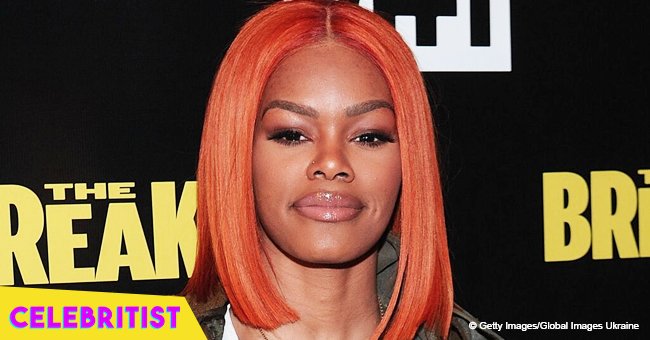 Teyana Taylor steals hearts with photo of growing daughter Junie in yellow Gucci dress & sandals
Teyana Taylor's 2-year-old daughter, Iman "Junie" Tayla Shumpert, is already a star on the making. Not only is she a little fashionista, as shown on her mom's recent Instagram post, but she's also ready to grab the mic anytime in front of a crowd.
Teyana and Iman Shumpert's only daughter has been stealing the spotlight from her parents since she was born. The adorable girl was featured on their VH1 reality show "Teyana & Iman," and she already has over 382k followers on her Instagram account.
Junie is a fashion icon for kids, and in a recent post shared by Taylor on Instagram, the toddler proved that she'd got the facial expressions to match her adorable looks.
Junie wore a yellow sweater-dress with a Gucci logo printed on the front, and she completed the look with matching sandals, big hoop earrings and her natural curls tied up in two buns at the top of her head.
However, it was her natural and silly expressions what caught the fans' attention. She made kissy faces to the camera, smiled brightly showing her teeth and even pouted in some of the shots as she stood beside a white car and in the middle of the sidewalk.
"Bruh ya girl @babyjunie4 is the queen of facial expressions she's tewwwww muchhhh u cute bugggg I see youuu! I swear @childsplayclothing has the cutest designer clothes for kids [sic]" Teyana captioned the adorable series of photos.
Fans of the singer and model took over her comment section to share their thoughts on the pic and Junie. User @lady_liger wrote:
"My heart just exploded she's getting so big. Stunning like her mother @teyanataylor I needed to see this I was having a bad day for real."
While @dazzlingdiva_91 said:
"She is becoming such a big girl. Omg just growing up so fast. Where has the time gone?!!! Just so cute."
And @foureverseventeen said:
"This outfit is sooooo but that I want to wear it too!!! What a doll."
A STAR ON THE MAKING
Junie is not shy at all in front of the cameras, and she recently proved she isn't afraid of big crowds either. The little girl took the stage at one of her mother's shows from the "KTSE Tour," and she wowed the audience and her mother with her artistic skills.
Junie got on stage wearing a cute skirt, a top with the U.S flag printed on it, a bomber jacket and earmuffs on place to protect her ears from the loud noise. Although she looked shy at first, Junie soon got over her stage fright and took the mic from her mother to give the crowd an impromptu rendition of "Never Would Have Made It," from Teyana's latest album.
The girl left her mom behind as she walked to the front of the stage pointing to the crowd while belting out the song. Teyana fell to the floor in shock, laughing and overwhelmed by her daughter's showmanship.
A MULTIFACETED GIRL
Talking to People about her daughter's future, Teyana made clear that Junie will have the freedom to choose under what career path she wants to go. She said:
"Honestly, like one thing we want to do is give Junie the freedom to do whatever it is her little mind desires because sometimes she's singing and she's playing in makeup, and she's putting on lipstick, and she's dancing, but then she'll turn around, pick up a basketball, and she's trying to hoop."
Teyana is currently on a break from her tour and enjoying her free time with family in the Bahamas.
Please fill in your e-mail so we can share with you our top stories!