Jonathan Scott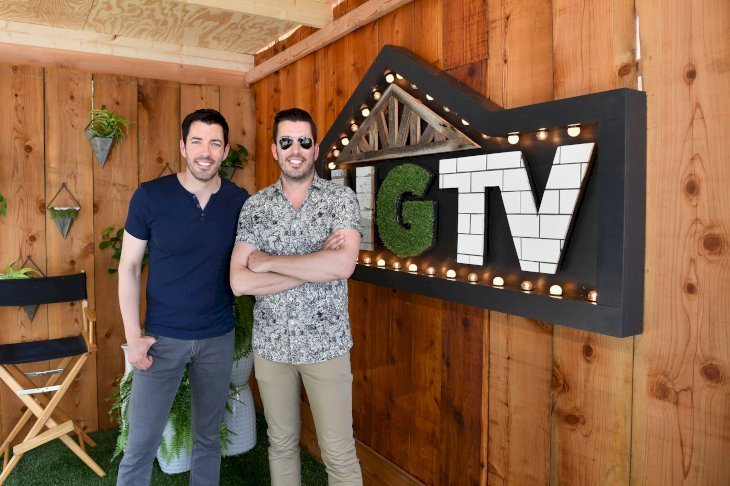 Content
| | |
| --- | --- |
| Full Name: | Jonathan Silver Scott (Born: John Ian Scott) |
| Date of Birth: | April 28, 1978 |
| Place Of Birth:      | Vancouver, Canada |
| Zodiac Sign: | Taurus |
| Age: | 40 years old |
| Height: | 6 ft 4 in (1.93 m) |
| Professions: | Television personality, contractor, illusionist, and television and film producer |
| Famous For: | Property Brothers franchise |
| Net Worth: | $20 million |
| Spouse/Ex-: | Kelsy Ully (m. 2007; div. 2013), Jacinta Kuznetsov (2015 - 2018) |
| Social Media: | Facebook, Twitter, Instagram, Wikipedia, IMDb |
Who is Jonathan Scott?
Jonathan Silver Scott is a Canadian-born entertainer, presenter, entrepreneur and television personality. He is well known for co-hosting the popular TV show, "Property Brothers" with his twin brother, Drew Scott. The Scott brothers also star in all the spinoffs from the show, including "Property Brothers at Home" (2014), "Property Brothers at Home on the Ranch," "Property Brothers - Buying + Selling" (2012), and "Brother vs. Brother" (2013).  
Early life:
Jonathan Scott was born John Ian Scott on April 28, 1978. He is only four minutes older than his identical twin brother, Drew. They were born in Vancouver, British Columbia. Besides his twin brother, Jonathan has an older brother named JD, making Jonathan the second son of James and Joanne Scott.
James dreamed of being a cowboy and moved from Scotland to Canada in his teens. However, he ended up working in the film industry as an actor, stuntman, and assistant director, and only in the late 1970's did he leave to focus on raising his family. They moved to a horse farm in Maple Ridge, British Columbia.
On Jonathan and Drew's seventh birthday, their father encouraged the twins to get a job. Together with their mother, they started JAM, a business where they made nylon-wrapped clothes hangers. In interviews, Jonathan and Drew have recounted how they used to sell them door-to-door, and then one day sold thousands to a woman who sold them in Japan.
After the hangers, Jonathan and his brother found an ad looking for child clowns to perform in parades. They attended classes with the local Parks and Recreation Department, and when they completed the courses, they got the job. However, Jonathan eventually got tired of the makeup and instead began transitioning into a performer.
At the age of ten, he was making magic props as he wanted to be a magician. His ability to build and create sets only grew stronger, and by the age of 15, he was using the barn as a workshop to develop large-scale illusions. Jonathan's interest in magic only grew, and so he decided to study the definitive volumes of Tarbell Course in Magic and to find a mentor who was a professional illusionist.
He contacted David Wilson and Shawn Farquhar, who became his mentors and eventually his friends. Jonathan eventually joined the Vancouver Magic Circle and the International Brotherhood of Magicians, and in the decade that followed, he won several awards. At 14 years old, he and his father moved to Alberta, where they decided to build the parents' dream house. While in Alberta, he took on Jonathan Silver as a stage name.
Jonathan moved back to Maple Ridge to complete high school when his grades started dropping. Both the boys went to Thomas Haney Secondary School, and while they both enjoyed sports, Jonathan gravitated more to theater and clubs. He was president of various committees including student government and the graduation committee. They went to Calgary University after they graduated High School.
Career:
Jonathan Scott has a long list of acting roles and a history of performing arts. He started working when he was young and eventually landed notable roles on shows like "The X-Files" and "Breaker High". As a multi-talented performer, Jonathan was able to perform both on stage and screen. He booked voice-overs, numerous acting roles and even worked as an illusionist in Las Vegas.
Over the next decade, Jonathan won many awards and accolades. Before beginning "Property Brothers", he and his brother, Drew, worked on film production. In 2004, they started producing and promoting independent film projects. Together, the brothers founded their own independent production company which they eventually named Scott Brothers Entertainment. The company produced a variety of different genres of media. They also created Scott Real Estate, helping people buy, sell & renovate real estate.
The success of their real estate business resulted in the brothers being approached to create a reality series based on their work. The series is called "Property Brothers," and it was a smash hit. The fantastic success of the show resulted in several spin-offs being made.
Jonathan and Drew founded the Producers Ball in 2011. In 2015, they released two country music songs on iTunes, "Hold On" and "Let The Night Shine In." On April 4, 2016, the brothers released their first book, "Dream Home: The Property Brothers' Ultimate Guide To Finding And Fixing Your Perfect House." Jonathan Scott is also committed to many philanthropic efforts and works with organizations including St. Jude Children's Research Hospital, World Vision and Artists For Peace & Justice.
Personal life:
In the summer of 2007, he married Kelsy Ully. However, as Jonathan explains in his book, after they moved to Las Vegas, along with the strain of Ully's job at a day club, they were faced with many challenges which in turn caused conflict in their relationship. The couple was married for seven years before they divorced. He then dated Jacinta Kuznetsov, but in April 2018 he publicly announced their breakup.
Movies/Series:
"It's much easier to follow the popular path than it is to be a man of character. Well, I've never really cared much for crowds anyway." ~Jonathan Scott
Trivia:
Identical Twin brother is actor/producer Drew Scott
He was voted one of Entertainment Tonight's 2011 Hottest Canadian TV Bachelors alongside Cory Monteith, Gregory Smith, Justin Chatwin, and twin brother Drew Scott
Became childhood friends with Tyler Labine, when Labine moved from Ontario to British Columbia. Later the pair worked together on Breaker High (1997) (also starring Ryan Gosling)
He holds a black belt in Shotokan karate, plays the bagpipes, loves going on cruises, and loves exploring escape rooms