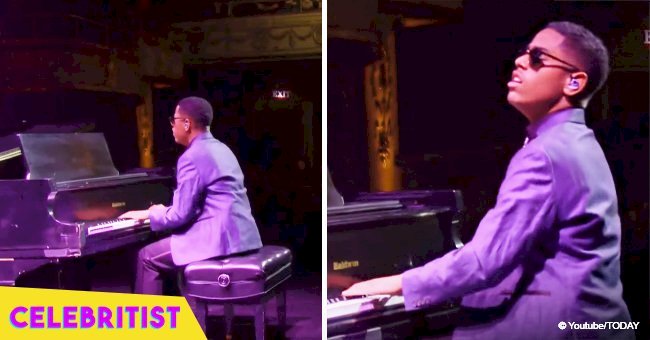 16-year-old blind piano prodigy dubbed as the next Stevie Wonder shows off his amazing skill

Mathew Whitaker, the teenage prodigy considered as the world's next Stevie Wonder, showed off his exceptional skills on national television. He also showed that musical talents are not the only thing that makes him such a star.
Matthew, from Hackensack, New Jersey, was featured on the Today Show as part of a "Boys Changing the World" series.
ROUGH START
In an interview held at the Apollo Theater in New York, the music maestro shared details of his life with Savannah Guthrie. Born blind and premature, Matthew did not have the most comfortable start to life. Doctors told his parents their son had a less than fifty percent chance of survival.
His father, Moses Whitaker, while holding in his emotions, said:
"I remember holding him in the palm of my hand, and I remember the doctors telling us that 'there's a less than fifty percent chance that your son is going to make it.'"
VALID FEARS
His mother, May Whitaker, had less luck with her feelings. As tears streamed down her face, she confessed:
"When he was born, I didn't know what kind of life he would lead."
But May need not have worried, because, from a young age, Matthew already proved his life was going to be nothing short of spectacular. He taught himself to play "Twinkle, Twinkle, Little, Star" on a small keyboard his grandfather gave him, and from then on, it was one musical achievement after another.
BEATING THE ODDS
At the age of nine, the world noticed Matthew after he won Amateur night at the prestigious Apollo Theater. He became the youngest artist to be endorsed by Hammond and Yamaha at 13, and last year, at the age of 15, Matthew released his first album, "Outta The Box."
In addition to touring Europe, the Middle East, and Asia, Matthew also owns his own publishing company, "Matthew Whitaker LLC" and has been the organist at his Hackensack church since he was 14.
LITTLE STEVIE
His teeming fans, as well as media outlets, continue to compare him to the Motown legend, Stevie Wonder, who is also visually impaired, but Matthew insists, "It's an honor to be compared to him, but there's really only one Stevie."
BUNDLE OF TALENT
And Matthew is not just a master at playing the piano and organ; he also displayed exceptional skills on the drums. The young pianist explained:
"I always feel the music when I'm playing. And I always love inspiring people and making the audience feel good when I'm performing. It just feels really amazing."
BEYOND THE MUSIC
Meanwhile, in another interview, Moses confirmed that Matthew is the only musically gifted person on him and his wife's side of the family. "Matthew is the only one who has the gift," he said.
Matthew, whose charm lies not only in his talent, but also in his humor and cheery personality, now lives a full life, and has his mother shared:
"He loves music, but he loves people more, and music is just what makes him connect to other people."
ANOTHER VISUALLY-IMPAIRED MUSICAL PRODIGY
People like Matthew remind us that we can make an impact in our world regardless of life's challenges. 15-year-old blind teen, Kuha'o did the same when he stunned the world with his impressive piano skills.
The lad's talent involved playing any song on the piano after hearing it once, and he displayed that in a couple of YouTube videos that went viral in 2012.
Please fill in your e-mail so we can share with you our top stories!