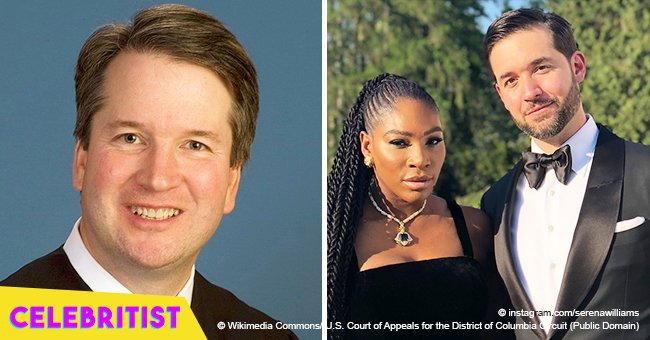 Serena Williams' husband calls out double standard over her treatment and Brett Kavanaugh's
Alexis Ohanian comes to his wife's rescue once again in defending her on a double standard issue. He released a series of tweets slamming the disparity between reactions to Brett Kavanaugh's outburst during a hearing and his wife's anger during the US Open finals.
Alexis Ohanian is crying foul over what he believes is a double standard treatment of his wife's US Open outburst as compared to Supreme Court Judge Brett Kavanaugh's flare-up during a sexual assault hearing.
Ohanian aired his frustration on Twitter after Alabama Democratic State candidate Deborah Barros tweeted the disparity between the reactions to Williams' and Kavanaugh's emotional outbursts.
"Funny how a black female tennis player is held to a higher standard to keep her emotions in check than a Supreme Court nominee."
"It's not funny, it's bullshit," Ohanian responded before sending out a follow-up tweet.
"Beta Brett:
+ Played the "father card" + Cried & screamed + Insulted everyone's intelligence with lies about the definitions of phrases anyone with Google could debunk + Argued hysterically with sitting Senators, even going so far as to threaten them"
He further argued,
"If you're going to be a Supreme Court Justice -- a job that requires maintaining sober judgement -- it shouldn't matter what questions you have to answer in your job interview, you keep it together. I look forward to the cartoon @damonheraldsun puts on the front page about it."
It can be recalled a controversial cartoon of Williams emerged after she threw a tantrum in court over what she believed was an umpire's wrong call. Ohanian accused the cartoonist of creating a "racist and misogynistic" artwork. The drawing featured Williams in the middle of an argument with the umpire while stomping on her tennis racket with a pacifier near her feet. The Herald Sun cartoonist, Mark Knight, defended his drawing by saying it was purely about Williams' poor behavior and not about her race.
Kavanaugh cried and yelled during the hearing in relation to sexual assault charges filed against him. He reacted that way when he was asked questions about certain topics he was uncomfortable discussing. Explaining his outburst, he said he became emotional and showed remorse by saying he was there "as a son, husband, and dad" and that he was testifying with his father, mother, wife, and daughters in mind.
President Donald Trump described Kavanaugh's hearing as "powerful, honest and riveting" in a tweet. This sort of reaction was an extreme contrast to reactions to Williams' courtside behavior where she had a heated exchange with umpire Carlos Ramos. She accused him of lying and demanded an apology from him. Many slammed her behavior and now Ohanian believes it's because she's a woman that she was placed at a higher standard as compared to Kavanaugh.
Kavanaugh who was running for a seat as Supreme Court Justice at the time of his hearing has since been confirmed as the ninth justice with a vote of 50-48. Meanwhile, Williams is still waiting for an apology from Ramos whose peers backed his court calls.
Please fill in your e-mail so we can share with you our top stories!