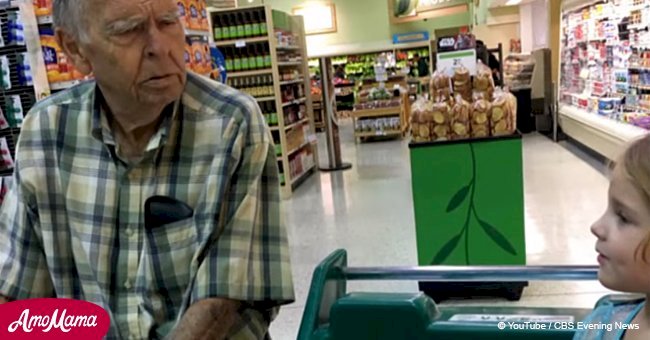 Four-year-old girl met an old man in a store, 2 years later they are still best friends

Little Norah befriended an old man named Dan at the grocery store. After two years, the two are still the cutest pair of unlikely friends.
In 2016, the young lady foreshadowed an unexpected event the day before her fourth birthday celebration.
Norah has always shown some kindness for seniors. At some point, she shared this with her mother Tara when they were leaving the little girl's preschool.
Norah advised her mom to mind the old man who was gradually strolling over the parking area at a glacier's pace. Follow us on our Twitter account, @amomama_usa, to learn more.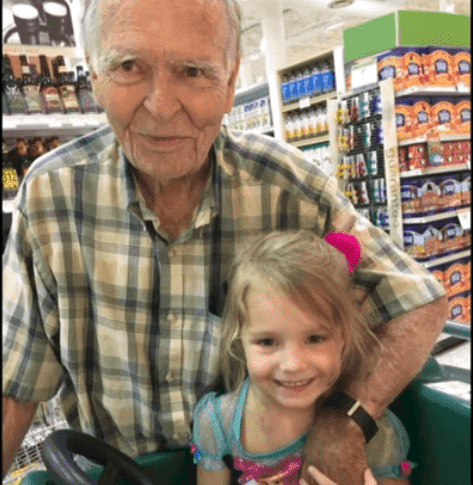 Source: YouTube/CBS Evening News
"I like old peoples the best 'cos they walk slow like I walk slow and they has soft skin like I has soft skin. They all gonna die soon so I'm gonna love 'em all up before they is died," the precious girl told her mother.
Tara was struck by her daughter's attentiveness and sympathy for the elderly man.
"The following day — her birthday — again on the way home from school, she asked if we could stop at the grocery store to buy celebratory cupcakes for her and her six siblings to enjoy after dinner," Tara wrote.
While at the grocery store, she noticed Norah stood up in the cart and began waving. "Hi old person! It's my birfday today!" the little girl shouted at an old man cruising by.
Expecting the man to be insulted, Tara immediately apologized extensively.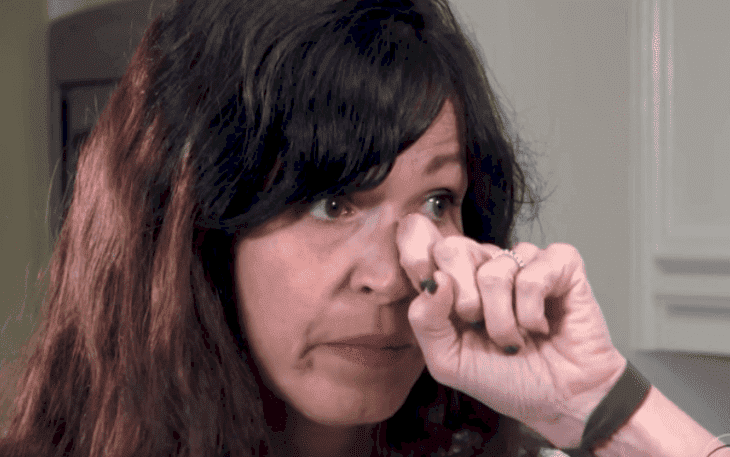 Source: YouTube/CBS Evening News
But instead, the old man's face softened, and the two ended up talking for a couple of minutes before they went their separate ways.
Norah then asked her mother if she could take a photo with the man she'd quite recently met.
Since it was her fourth birthday celebration, Tara agreed, and they returned to the store to find the man and ask him to take a picture.
The mother shared that the man, who presented himself as Dan, positively smiled.
"I pulled out my iPhone and they posed together. She placed her soft hand on top of his soft hand. He wordlessly stared at her with twinkling eyes as she kept his hand in hers and studied his skinny veins and weathered knuckles. She kissed the top of his hand and then placed it on her cheek."

Source: YouTube/CBS Evening News
Norah and Dan chatted for a few more minutes after taking a photograph.
When the time had come to go, Tara expressed her gratitude toward Dan. His eyes loaded up with tears and he said, "No, thank YOU. This has been the best day I've had in a long time. You've made me so happy, Miss Norah."
On the ride home, Tara couldn't quit pondering the man and what may have drawn her little girl to him.
Tara at that point decided to wrote about the meeting on Facebook and uploaded her photographs from the experience.
Her post grabbed the attention of a local reader and sent her a message explaining that Dan had recently experienced a personal tragedy.
"His wife, Mary, had passed away in March and he had been lonely since his beloved had gone. She wanted to let me know that she was certain his heart was touched by my little girl. That he needed it and it likely would never forget it," Tara shared.
The mother was so touched. She then asked her reader to pass along Dan's contact information and called him a couple of days later.
"We made a visit to Mr. Dan's cozy and tidy house — reminders of Mary still proudly displayed everywhere you look. He had gotten a haircut, shaved, and was wearing slacks and dress shoes," Tara explained.
"He looked ten years younger. He'd set out a child's table, blank paper, and crayons out for Norah. He asked if she'd draw some pictures for him to display on his refrigerator. She happily agreed and went right to work."
Tara and Norah spent nearly three hours with Dan that day. Before they left, the old man pulled out a pocket knife and cut the single red rose blooming by his porch.
"He spent ten minutes cutting every thorn off of the stem before handing it to his new friend. She keeps that rose, now dry as a bone, in a Ziploc bag under her pillow," Tara explained.
Tara and Norah currently make regular visits to see the elderly man. The girl and the old man are best friends now.
"I've invited him to spend Thanksgiving with us. He's part of our family now. Whether he likes it or not, he's been absorbed into my family of nine and just like Norah said, 'we're gonna love him all up,'" Tara wrote.
She concluded that sometimes chatting to strangers can lead to lovely fresh starts.
Please fill in your e-mail so we can share with you our top stories!