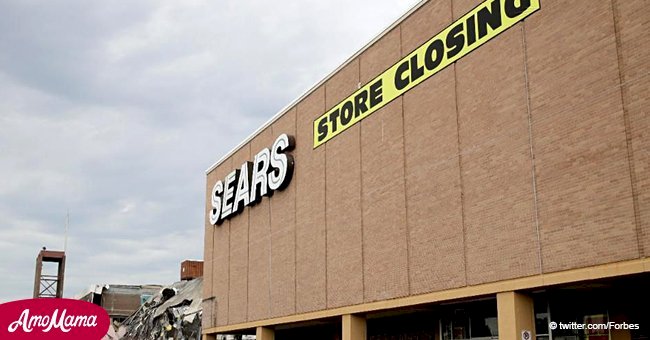 One of the largest US retailers "Sears" is preparing for potential bankruptcy
After 125 years in business, Sears could be filing for bankruptcy as soon as this week.
Sears hired M-III Partners and Lazard to prepare for a bankruptcy filing according to a report by The Wall Street Journal on Tuesday, other people who asked not to be identified alleges the same, however, the filing is not definite and could still be averted.
WHAT LEAD TO THIS SITUATION?
2010 was the last year Sears turned a profit, according to analysts Sears need to generate more than $1 billion a year to stay afloat, but with tough competition and a changing market, sales continue to go down.
Remaining stores are less than 900 across the U.S. today with under 90,000 employees. When Sears was doing well it boasted with over 3,500 Sears and Kmart locations combined, with hundreds of thousands of employees.
Read more on our Twitter account @amomama_usa.
Sears' CEO, Eddie Lampert bought Kmart in 2004 and merged it with Sears a year later, both department stores were struggling already, however, Lampert believed he could revive the business by taking advantage of its lucrative real estate.
With Sears in survival mode, Lampert took 250 stores and put them into a real estate investment trust known as Seritage. The plan did not work and layoffs have been steady as store closures mount.
WHAT IS HAPPENING WITH SEARS NOW?
Sears stock has dropped a massive 32%, to 40 cents a share and has a $134 million debt payment due on Monday which they previously stated they may not be able to cover. The so-called 'debtor-in-possession' loan needed by companies to have enough liquidity to keep the business running during bankruptcy is a clear sign to many that Sears is about to file for bankruptcy.
Lampert has kept Sears afloat through careful financial maneuvering but also pouring some of his own money into the company, which he might do again although his hedge fund, ESL Investments proposed a restructuring and has offered to buy some of Sears' remaining key assets. Whether Sears' lenders will agree is still unknown. With only a few key assets left Sears have little to offer its lenders as collateral.
On September 13 Lampert said in a blog post:
"It is imperative that the company reduce debt, adjust its debt maturity profile and eliminate the associated cash interest obligations. We continue to believe it is in the best interests of all our stakeholders to accomplish this as a going concern rather than alternatives that could result in significant reductions in value."
THE BEGINNING OF SEARS
Sears have been a household name through the years and known as 'the everything store.' Celebrating its 125th anniversary it once was the biggest retailer in the U.S. and hit an all-time high share price of $195.18 in April 2007.
Sears started as a watch company in the 1880s and by the 1930s it grew to over 400 stores selling a wide range of goods from clothing and hardware to prefabricated homes. In those years it was known as Sears, Roebuck & Co., the conglomerate of Richard Sears, Alvah C. Roebuck and Julius Rosenwald. The first store opened in the 1920's and became the go-to shop where customers could find just about anything.
Source: CNBC
A big name in the music industry filed for bankruptcy on May 1 this year. Gibson announced their bankruptcy due to enormous amounts of debt but by no means plan to stop producing musical instruments.
The Nashville-based company plans on ditching some side projects, going back to the drawing board in order to give the company a restructure and refocus their efforts on where it would be most beneficial for the company.
Please fill in your e-mail so we can share with you our top stories!