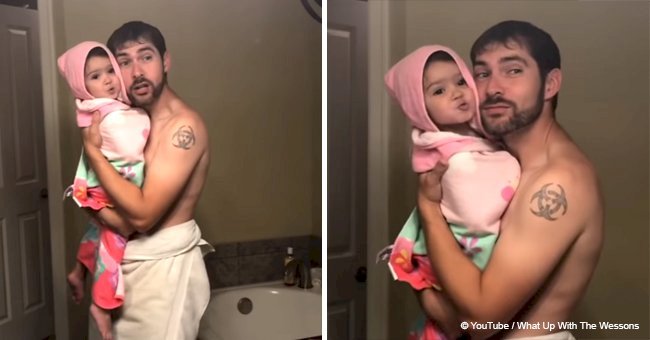 Daddy-Daughter lip-sync singing duet is probably the cutest thing we saw today

On October 8 a video got shared on social media capturing the hearts of all that have seen it, including those of Maroon 5.
Trina and Justin Wesson from Los Angeles, California are big fans of Maroon 5. After the release of their single, 'Girls Like You' it quickly reached viral status, but had special meaning to the Wesson's, as dad Justin loves to sing it with his little daughter.
One evening after having showered and bathed respectively Justin wrapped his daughter, little Myla up in a snug hooded towel and with the Maroon 5 hit playing they lip-synced to their favorite song while Justin held her close.
Source: YouTube/ What Up With The Wessons
With an animated face she impressively lip-syncs with her dad, her expressions exaggerated with the 'oooh ohh' and 'yeah yeahs' much to the delight of her parents. Justin couldn't help laughing intermittently and occasionally gave Myla a loving kiss as they sang together.
Source: YouTube/ What Up With The Wessons
Read more on our Twitter account @amomama_usa.
Mom Trina was so impressed by little Myla's lip-syncing skills that she posted the video on their social media pages. Much to their surprise Maroon 5 saw the clip as well and commented, even sharing it on their own social media sites.
The adorable video is quickly gaining popularity already having reached 120,457 views on Facebook.
With better moves than Jagger, another duo stole the hearts of viewers in September when a woman from Massachusetts posted a video on Facebook of her 10-year-old daughter Maeve tap dancing with her 72-year-old grandfather. After only six classes they put together a performance to the song 'You Gonna Miss Me When I'm Gone' for Maeve's summer recital.
The video shows their routine from start to finish and they are clearly enjoying themselves as grandfather and granddaughter spend some quality time together. Grandad surprises with a few of the moves, even doing a cartwheel much to the delight of viewers. After watching the clip it is no surprise why it has gone viral.
Baby triplets also took the internet by storm when a video got posted of them dancing to Farrell Williams' song 'Happy.' It shows all three together in a crib wearing adorable matching pink onesies, standing up and holding onto the side of the crib, eagerly waiting for their mum to play their favorite song. When the song plays they can be seen bouncing happily up and down to the beat of the song, one even tries to sing with mumbling syllables, and their adorable performance quickly went viral.
Please fill in your e-mail so we can share with you our top stories!