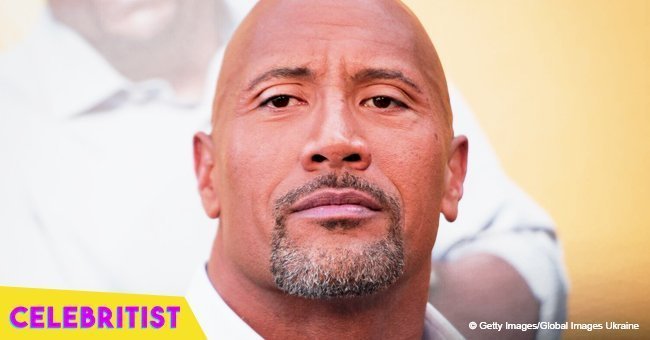 'Light-skinned' Dwayne Johnson critiized after landing role as Black folklore icon John Henry

Actor and former wrestler, Dwayne "The Rock" Johnson has been drawing a lot of criticism since his new movie role was announced on October 9.
Johnson, a biracial man who is half-black, half Samoan, took to Instagram with a video teaser of his upcoming movie, "John Henry and the Statesmen." The film tells the story of John Henry, a black folklore legend who worked as a steel-driver in 1870 and died in a racing contest against a steam machine.
Johnson also shared with his over 100 million followers, why the "John Henry" project means a lot to him.
"Inspired to bring to life one of my childhood heroes," said the "Jumanji" actor, and continued:
"In this movie, I'll lead an ensemble of the most popular folklore figures and legends from different cultures around the world. The legend of JOHN HENRY'S strength, endurance, dignity and cultural pride was instilled in my DNA at a very young age. … My dad would sing 'Big John' to me every time he would put me to bed. … Gonna be a lot of fun bringing these legends to life. My childhood hero. The steel driving man and his disruptive band of international folklore legends."
The "Fast & Furious" star also revealed he'll be producing the movie.
The announcement immediately sparked outrage among fans who thought Johnson had no business playing "John Henry," a character has always been depicted as dark-skinned.
Twitter and Instagram blew up with movie enthusiasts registering their displeasure at the casting, with some calling out the movie platform, Netflix, for not doing better.
Others went as far as suggesting other dark-skinned Hollywood actors that would have made a better choice. Terry Crews, Mike Colter, Michael Jai White, and "Black Panther" actor Winston Duke, were some of the suggestions that filled the comments.
Twitter user @CharlesPulliam noted:
"Historically, John Henry's always been depicted as having a *very* dark skin complexion. …I'm legitimately curious who the target audience for this movie is meant to be."
Another concerned person, @Karnythia said:
"Nope. He's great, but he's definitely not John Henry. This is a wonderful time for someone new to break in. John Henry was dark skinned & young."
The actor is yet to respond to these comments.
HEADLINES ON THE HOMEFRONT
Meanwhile, Johnson, 46, made news recently for something related to his personal life. His teenage daughter, Simone Garcia Johnson was reported to be nursing a professional wrestling ambition, and already training at the WWE Performance Center.
Making a name for herself in wrestling would make Simone, the fourth-generation of wrestlers in her family. The Rock's father and grandfather were also wrestlers and bodybuilders.
Johnson has two other daughters, Jasmine and Tiana, with his current girlfriend, Lauren Hashian.
Please fill in your e-mail so we can share with you our top stories!