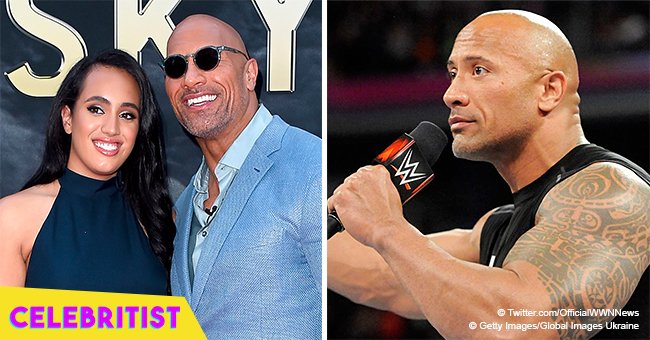 Dwayne 'The Rock' Johnson's teen daughter reportedly training to become WWE star

Dwayne "The Rock" Johnson's daughter wants to follow in her dad's footsteps, reportedly starting her training to become a WWE star.
Dwayne is one of the world's greatest wrestlers in WWE history and has become one of the biggest names in Hollywood. After making a name for himself both in the wrestling world and in Hollywood, it seems his daughter wants to do the same.
17-year-old Simone Garcia Johnson has reportedly been starting her training to become a professional wrestler at the WWE Performance Center. The high school pupil previously shared how she's hoping to become the league's first fourth-generation talent.
In the latest episode of former-WWE announcer Lilian Garcia's "Chasing Glory" podcast, Zelina Vega spoke about becoming close to Simone. The SmackDown Live wrestler and manager revealed that the 17-year-old has indeed been training at the Performance Center in Orlando, Florida.
Vega, who is now getting close to the teenage Johnson, has also worked with The Rock during the filming of "Fighting with My Family", his comedy film based on the English WWE talent Paige. Vega, or Thea Trinidad in real life, said Simone gave her the best compliment ever after a shoot at the Staples Center in LA. The 27-year-old recalled how Simone said:
"I knew I wanted to start wrestling for sure where I saw you at Raw doing the movie."
While the young wrestler aspirant has been training in the WWE center for the past few months on occasion, word has been going around that the teenager will be frequenting the facility even more in the near future.
When Simone said she wanted to be the league's first fourth-generation wrestler, it's because her grandfather and great-grandfather were also wrestlers.
Since Dwayne is called "The Rock", he introduced his dad as Rocky Johnson, and it seems aside from his rock-solid muscles, it was also his dad who influenced his screen name.
Definitely, it was not just his name that was influenced, but also his choice of livelihood. Just like his father, and his grandfather, The Rock chose to go into wrestling and bodybuilding, which is his source of income up until today that he's become one of Hollywood's biggest action stars.
Now, it's only a matter of time before Simone Johnson's name will start changing the wrestling world and maybe even in the far future, Hollywood.
Please fill in your e-mail so we can share with you our top stories!