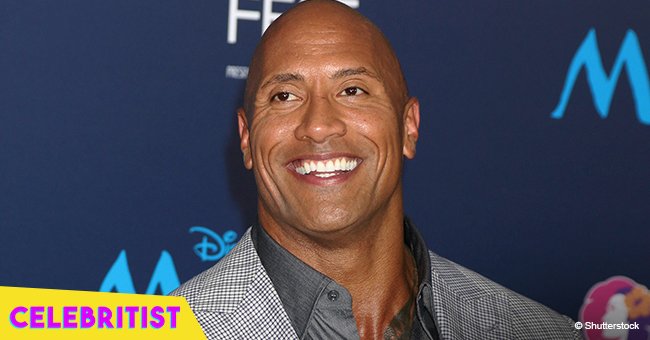 Dwayne 'The Rock' Johnson melts hearts in childhood photo with former pro-wrestler dad
Dwayne Johnson reveals his soft spot for his father sharing a throwback photo on Father's Day. The post comes two months after he gifted his old man with a brand new car while recovering from surgery.
While celebrating his being a three-time dad on Father's day, Dwayne Johnson took the time to pay tribute to his own dad, Rocky Johnson, who with his tough love steered the actor to become the kind of father he is today.
A sweet throwback photo was the highlight of the actor's tribute to his former professional wrestling dad showing a younger Dwayne and his muscled pop flexing their arms. It was clear the Hollywood A-lister took the cue from the 73-year-old when it came to building his body and pursuing a career in wrestling.
"Happy Father's Day to this hardly ever smiling OG bad ass," Dwayne began to write about the man he looked up to as the "original Rock." He continued,
"Little boys by nature, look up to and idolize their old man. They want to be just like em, do whatever they do and are always looking for their approval. Funny thing is the day I stopped looking for that approval was the day I understood what it meant to be man and more importantly, a father."
Dwayne went on to say he learned to be grateful for the tough love his father gave him. He added,
"Years later as a man and father of three girls, I know that tough love, is a helluva lot better than no love at all. I'll take it. It's made me who I am today. Grateful to the original Rock."
Just a few months before Dwayne penned this heartfelt message, his father was recovering from a hip replacement surgery. The 45-year-old spoiled his old man by responding to his hint of wanting a new car. He recounted the story in a post,
"My pops just had his hip replaced and called me and said 'Hey Mr. D the surgeon really feels like I should have a bigger car since my hip rehab..' I cut my dad off and just started laughing because I knew what he was hustling for"
"I said 'say no more..I got you.. just go down and pick out what you want' then we hung up and hours later I get this pic."
The photo accompanying The Rock's story showed his dad standing beside his brand new black Cadillac with a gold ribbon on it. The gift was the actor's way of thanking his father for all "the ass kickins", he added in his caption.
As big a Hollywood star he is, Dwayne proves he's a big man with a big heart that has a soft spot for his father.
Please fill in your e-mail so we can share with you our top stories!