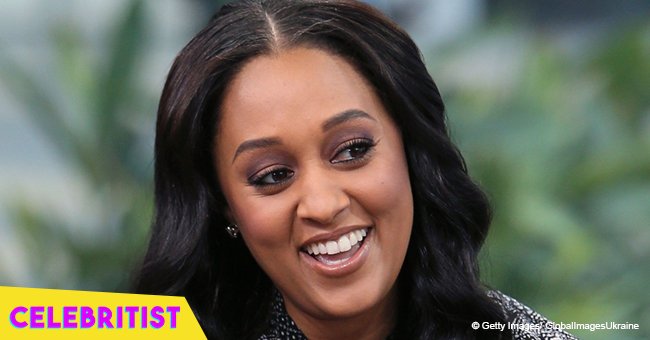 Tia Mowry reunites with former "Sister, Sister" co-stars Jackée Harry and Tim Reid for adorable pic
It took 18 years for former "Sister, Sister" co-stars Tia Mowry, Jackee Harry and Tim Reid to reunite but its 18 times sweeter. The actors are set to appear in a film together and they marked their first gathering with a photo.
Tia Mowry is clearly ecstatic to see her former co-stars Jackee Harry and Tim Reid in a photo she posted on Instagram. The three co-stars of "Sister, Sister" have good news to share. They're set to work together in a Lifetime movie.
It's been 18 years, a husband and two children since Tia parted ways with her two former on-screen colleagues. Jackee played Tia's character's adoptive mom on the show while Tim played Tia's twin sister, Tamera's adoptive dad.
Their recent reunion has become so much more meaningful because they have happy news to announce. They'll be sharing the screen in a new film called "Family and Faith." No further details have been provided but they're just really excited to be working together again.
It's also been rumored that apart from their new movie, they'll all be reuniting on a "Sister, Sister" reboot. Jackee dished about this when she guested on Steve Harvey's show earlier this year.
"It's happening.I'm excited. Tia and Tamera are my babies, too."
Meanwhile, Tia is equally thrilled for the show to come to life again. However, she revealed in January that there was still one more hurdle to overcome before the show's reboot is clearly a go.
"There's a hurdle that we have to jump. There's only one other hurdle and once we jump this hurdle, it's on and cracking. We just have to wait until that kind of fleshes itself out."
Fans have kept their fingers crossed that good news will soon be shared regarding the fate of the reboot.
In the meantime, they'll just have to settle with the other reunion project featuring Tia, Jackee, and Tim. Here's a glimpse of their first encounter after 18 years.
Tia and Jackee also recently reunited when the latter attended Tia's 40th birthday bash. The surprise party arranged by Tia's husband, Cory Hardrict was held in their home in Napa, California. The two co-stars shared a moment in a photo posted by Jackee who was clearly happy to be celebrating her on-screen daughter's birthday.
Please fill in your e-mail so we can share with you our top stories!