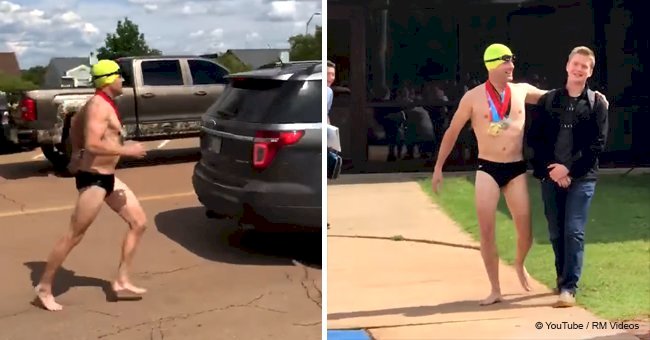 Dad levels up son's shaming by picking him up from school in swimming trunks

For parents, there are ways to embarrass your kids, and then there are ways to leave them completely mortified. Jeff, a teenager, may have felt the latter when his dad came to collect him one afternoon.
In a clip uploaded to Facebook, parents' vehicles are seen lined up near Stillwater Junior High School as they await their kids. Nearby, a door slammed and out came Justin Beadles.
Dressed in nothing but a black speedo, a yellow swimming cap, and goggles, he ran onto the school's large sidewalk. The video is found below.
Follow us on Twitter for more @amomama_usa.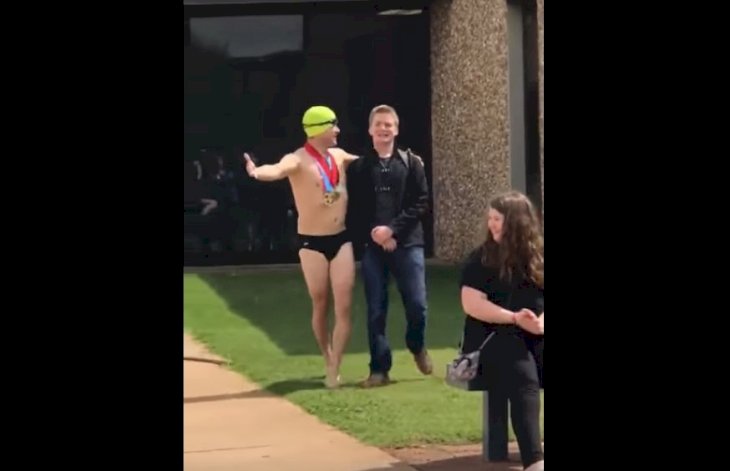 Source: YouTube/ RM Videos
The sound of several medals around his neck is heard as they clanged against each other.
"Jeff! Jeff" he shouted out amidst laughter from the high schoolers.
Barefooted, he ran a few feet towards the school. Someone in a vehicle honked their horn as the man approached his son.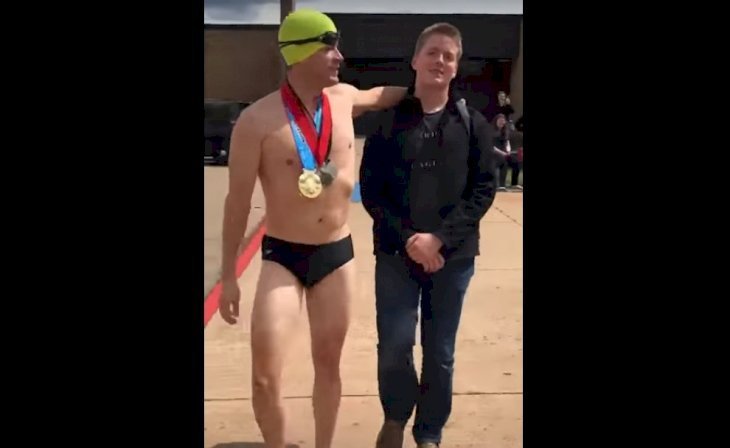 Source: YouTube/ RM Videos
The bizarre display turned into a comedic yet heartwarming greeting as the man opened his arms wide and continued to run.
When he finally reached his 15-year-old son, the teenage boy hesitatingly allowed his crazy dad to hug him briefly.
Beadles put a shoulder around Jeff and the odd couple walked back towards the car after what was apparently the last day of school.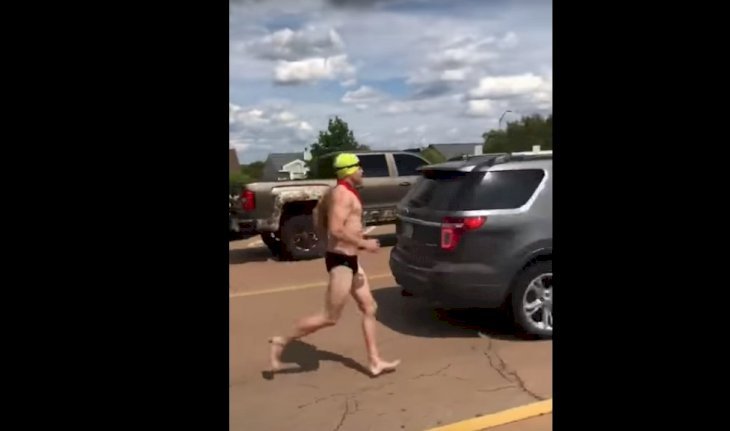 Source: YouTube/ RM Videos
The dad appeared to gesture that the hilarious event was being filmed by his wife. Then he said, "let's go," before sprinting back to his black minivan.
As the camera pans back towards the teen, he seemed to be taking it fairly well. He wore a mild smile.
Beadles' wife is heard behind the camera saying, "It wasn't my idea," and then the video ended.
In an interview with KWTV, Beadles said that pranking his son strengthens his bond with his deceased father.
"My dad, he was the guy who always said, 'Make a memory every day.' And since he has been gone, I've particularly tried to do that."
Source: YouTube/ RM Videos
His soon took the occasion in stride and even allowed his dad to share the clip on social media.
"I just thought it's the last day of school and no one can make fun of me because it's the last day of school."
The poor guy has likely received more than his share of wild antics from his prank-loving dad. As a result, he's developed a resilient attitude.
To some, however, a "dad prank," which is a prank pulled off by a father on his son, or daughter, is potentially traumatizing.
Many pranks do indeed result in physical harm to a child. But it can also be argued that the emotional scars that remain are just as bad.
In general, pranks have to be reasonably assessed before they are inflicted on another person, especially kids.
For example, on "Jimmy Kimmel Live," the host invites fans to do a yearly prank on their kids in which the parents tell the poor children that they ate all of their Halloween candy.
Many have condemned the prank as a sadistic act that betrays a child's trust.
Source: YouTube/ Jimmy Kimmel Live
The term sadistic may apply to a recent prank pulled off in May 2018 not by a dad, but a mother.
She worked with her son's uncle to make it look like an eyeball had fallen out of the uncle's head.
Horrified, the child screamed his head off. His mother went further and put the fake eyeball right in front of him.
Source: YouTube/ VIralHog
Though there was no blood, the poor boy believed the sight was real.
On Facebook, some people were okay with what they described as a joke, while others claimed it might stay with him throughout his life.
Please fill in your e-mail so we can share with you our top stories!