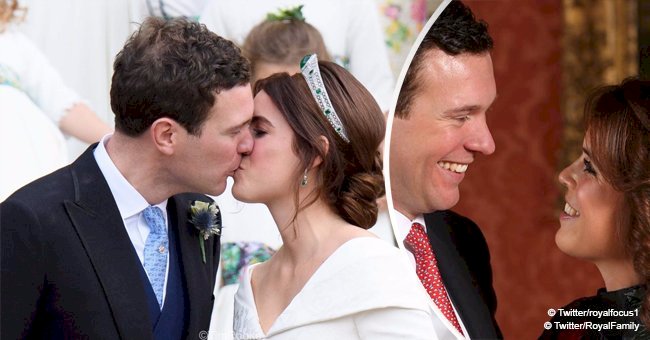 Lip reader reveals emotional words Jack reportedly whispered as Princess Eugenie arrived at Royal wedding

What did Jack Brooksbank whisper in the heartstopping moment his Princess Bride walked towards him down the aisle?
The most beautiful and emotional moment at any wedding is when the bride walks down the aisle on her father's arm towards the man she is promising to love for the rest of her life.
On October 12, 2018, Jack Brooksbank stood in George's Chapel at Windsor Castle waiting for Princess Eugenie, as nervous as any other bridegroom,
When the radiant Princess reached him, on the arm of her father, the proud-looking Duke of York, people saw him lean in and whisper something to his bride, and The Sun has shared his secret.
THE SECOND ROYAL WEDDING OF THE YEAR
This was the second Royal Wedding of 2018, and some are saying it is the loveliest of the two.
Unlike Duchess Meghan and Prince Harry's whirlwing romancem, Princess Eugenie, 28, married Brooksbank, 32, after a 7-year-coutshp. The couple met while skiing in Switzerland, and the relationship continued long distance when the Princess moved to New York to further her career in the art world.
"WHAT DID HE SAY TO EUGENIE?" ROMANTICS ASK
Viewers watching the Royal wedding from around the world were eager to know what the nervous looking groom had whispered to the Princess in front of the battery of TV cameras and 850 guests, including the Queen.
A LIP READER CRACKS THE MYSTERY AND SHARES THE NEWS
Professional lip reader Tina Lannin, of 121Captions, revealed that Brooksbank gasped "Oh my heart!" when he first saw Eugenie, then went on to say to his bride:
"Oh break my heart...You look perfect!"
THE MOST BEAUTIFUL PRINCESS BRIDE OF THE YEAR
Princess Eugenie wore a stunning low-backed, long-sleeved bespoke gown created by Peter Pilotto and Christopher De Vos and made out of uniquely patterned silk jacquard. The low cut back revealed the scar from the Princess' back surgery which she underwent at 12 to correct her scoliosis.
THE HILARIOUS "LIP READING" AT MEGHAN AND HARRY'S WEDDING
A hilariously irreverent video posted on YouTube by 'Bad Lip Reading' has "revealed" the secret conversations which took place at the May 19th, 2018 wedding between Meghan Markle and Prince Harry of Windsor.
The YouTube account 'Bad Lip Reading' takes popular videos and redubs them, and this time they tackled the Royal wedding, and the result is pure comedy.
The video, posted on May 22, 2018, just 3 days after the event, and has since then been seen by over 12,000,000 people.
In a related story, the Duke of York revealed the incredibly beautiful and original wedding cake the Princess and her fiance chose for their big day.
Please fill in your e-mail so we can share with you our top stories!