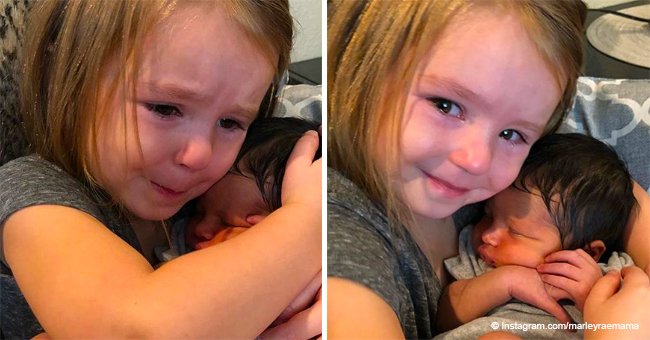 Little girl cuddles newborn cousin for the first time, and her adorable reaction goes viral
A tiny girl proved that true and unconditional love does exist, and it's melting hearts all over the world.
There are just a few moments in our lives that can be defined as sublime. Bree Miller had just experienced one of those moments and was about to witness a little girl go through another.
Miller, of Reseda California, recently gave birth to a precious baby girl named Marley Ray and was introducing her to the family - including two of her toddler nieces - when something extraordinary happened.
Luckily for the world, Miller had her camera ready to capture the moment, and the photos she posted on Instagram/MarleyRaeMama on October 9, 2018 and have since gone viral on social media.
WELCOMING THE MOST PRECIOUS CHILD INTO THEIR LIVES
Miller and her life partner welcomed Marley Rae into their lives on September 27, and the doting mom immediately created an Instagram page to share every moment of her journey with her daughter.
She posted photos of herself and Marley's dad cuddling the tiny mite, bathing and just simply adoring her; but one photo and the video of the same incident would go viral and make Marley and her cousin Tiffany media stars.
A VISIT FROM HER COUSINS AND FUTURE PLAYMATES
Two of Marley Rae's new cousins were brought by their parents to visit Miller and meet Marley Ray and one of them, Tiffany, seemed particularly taken by the baby.
HOLDING HER BABY COUSIN IN HER ARMS FOR THE FIRST TIME
Miller fed Marley Rae, and once the baby fell asleep she carefully placed her in Tiffany's arms, and the little girl tenderly kissed her on the forehead. As she held the baby, a surge of emotion seemed to overcome the little girl.
PRECIOUS TEARS FROM A PURE AND LOVING HEART
Suddenly, to Miller's surprise, Tiffany's eyes misted up as she tenderly cradled the baby in her arms, carefully touching her tiny arms and legs.
Then Tiffany's eyes welled up with precious tears of sheer love for the little bundle she was holding in her arms.
From now on, Marley Rae has one more unconditional admirer and protector in her life: Her tiny cousin, Tiffany.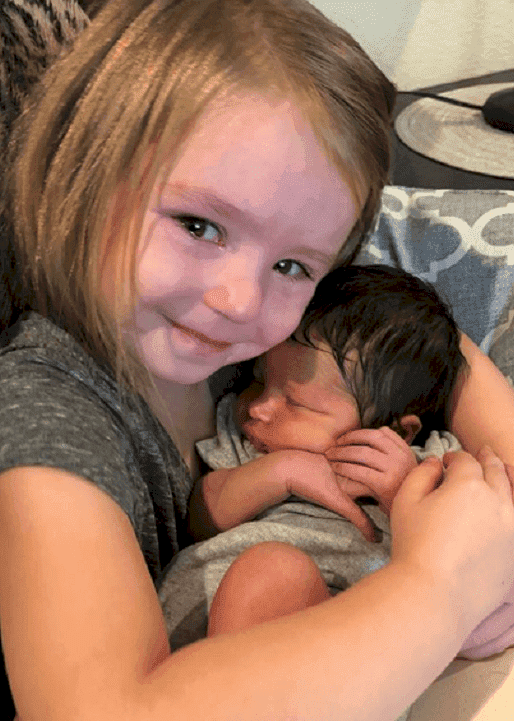 Instagram/MarleyRaeMama
A LITTLE GIRL REFUSES TO LET GO OF HER HER NEWBORN SISTER
Henley is a brand new big sister since her sister Peyton was born in late September 2018.
Henley is only one and a half years old, but she proved herself to be a determined and strong-willed little girl.
Henley was introduced to her newborn sister, and the baby was carefully placed in her arms. And that was that, from that moment on, Henley couldn't be persuaded to let Peyton go.
The adults tried to get the baby back, but Henley just gripped tighter and shook her head "no," even her grandmother tried to persuade her, but she was adamant.
She even insisted on taking a nap with her sister, snuggled up inside the hospital bassinet. Only when she was asked if she wanted to go for a ride with her sister, did Henley agree.
Henley's tender devotion is heartwarming and bodes well for the future relationship between the two little girls.
Please fill in your e-mail so we can share with you our top stories!