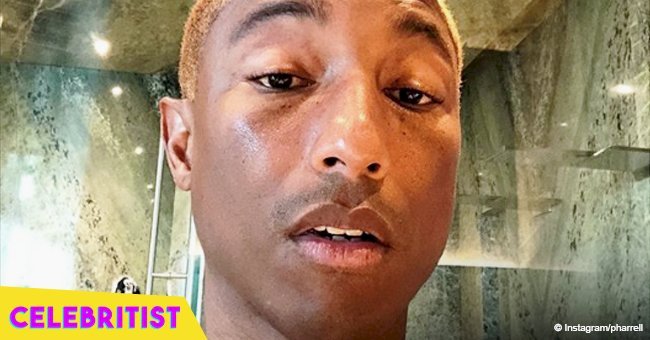 Pharrell Williams shares photo with wife in long jacket after speaking out about their triplets
Pharrell Williams, who recently revealed he has a team of 12 nurses for his triplets, posed with his wife for an adorable photo on the beach.
The prolific rapper and record producer stood out as usual for his fashion choice. He wore a white Chanel jacket and Khaki pants with a pair of quirky black-and-white sneakers.
His wife, Helen Lasichanh, towered over him in a long print jacket worn over a black gown and matching stockings. She also chose black shoes and held on to a burgundy purse.
The mother-of-four styled her hair short and didn't have much in the form of jewelry. The couple stood hand-in-hand as they posed with the beach as a backdrop.
Williams and Lasichanh, who have always been private about their personal lives, welcomed triplets in January 2017 and are yet to reveal their names or faces.
In a September appearance on "Good Morning America: Day" however, Williams did confess that he and his wife have a lot of help when it comes to taking care of their babies.
"We're not alone," the "Frontin" singer said, admitting that their first son, ten-year-old Rocket, has been an amazing big brother. "Our parents are involved, and we also have a staff," he added.
After saying that they also have nurses, the 45-year-old "Happy" singer shocked the hosts and audience by revealing they had a dozen nurses employed for their children's care.
"In terms of nurses, we have like, 12 people. Twelve ladies are in constant rotation: three in the morning, two at night."
Co-host, Sara Haines, found Williams' admission quite impressive and joked "I've got to up my game." Even Michael Strahan, who is a father to 13-year-old twin girls, was stunned.
Last year, Williams had praised his wife for her strength, referring to her admirably as "SEAL team six" and declaring, "there's nothing she can't do."
The former "The Voice" judge added, "She carried those three bodies, and she's just on it all the time."
Williams and Lasichanh have been together since 2007 but got married only five years ago on October 12. More recently, the couple was spotted in a rare public appearance at the first ever Yellow Ball.
The initiative, which is a collaboration between Williams and American Express, seeks to preserve young artists and their creative instincts.
Beyond the event, however, all eyes were on Williams and his wife who did not disappoint with their eccentric outfits.
Please fill in your e-mail so we can share with you our top stories!