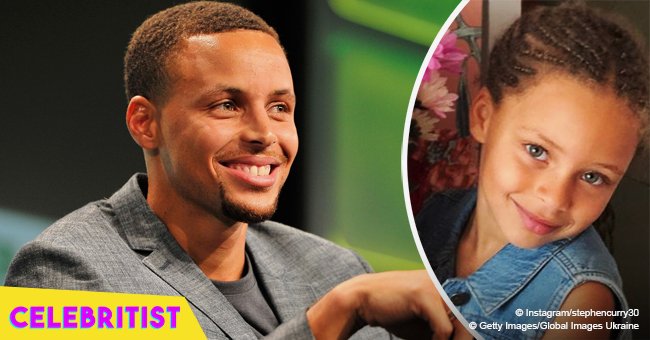 Stephen Curry's adorable daughter Riley shows off dance moves during preseason game
Riley Curry shows off her enthusiasm about basketball season in one of her dad's exhibition games, busting out her dance moves in the middle of the game.
Riley has been a courtside fixture in her dad's games, and now that he's getting ready for the upcoming NBA season through some exhibition games, it comes with no surprise that she's attended most of them. However, Riley's dance moves in one particular game, the Golden State Warriors vs. Los Angeles Lakers one at that, caught the attention of thousands of internet users, causing her to go viral.
After noticing that she was being filmed, Riley busted out some dance moves for the arena while flashing a smile. Her mom amusingly looked on while carrying her son Canon, who was all wrapped up in a baby carrier.
This isn't the first time that Riley gained quite a following, as she went viral back in 2015 for her different antics during her superstar dad's press conferences during the NBA. At one point, she adorably got her dad's microphone to say "way up, I feel blessed", which are lyrics to a rap song by Big Sean, Drake, and Kanye West.
While this was adored by fans from all over the world, some members of the press thought otherwise. Some writers claimed that having Riley in the press room made it harder for them to do their jobs, while others defended her presence by saying that writers on the field should learn how to take themselves a bit more lightly, and for them to be open to the challenge. After all, there is no harm in having a child in the pressroom, especially if they lighten the presence after a tense game.
Disappointingly, the LA Lakers vs. Golden State Warriors pre-season exhibition game did not see LeBron James or the rest of the best Lakers players on the court. To make up for the lack of entertainment, Riley Curry took matters to her own hands by dancing. Of course, being the little star that she is, Riley didn't just settle for one dancing moment, but two!
Her dancing was a sight to see for those who attended the game, and for the rest of the internet too as her videos have since then gone viral.
Riley clearly has a knack for dancing, as this isn't the first time she's done this on live television. During the Warriors' championship parade in the Bay Area earlier this year, she was caught dancing while celebrating her dad's win, something that also went viral.
Clearly, Riley is a crowd favorite among internet users, and we are not surprised why - the young girl is charismatic, beautiful, humorous, and talented.
Please fill in your e-mail so we can share with you our top stories!