'Fraud, crook & a thief,' Porsha Williams' fiancé blasted by ex's daughter for allegedly abusing mom
It's been good news galore for the reality star, Porsha Williams who recently announced her pregnancy and engagement. But that may all be over, with the latest accusations leveled against her fiancé by the daughter of his ex-girlfriend.
Instagram user @brazil_meair took to Instagram last Friday to share shocking details about Williams' husband-to-be, Dennis McKinley. The young lady is the daughter of McKinley's ex-girlfriend, Aoki Nicole, and she didn't hold back at all.
In a lengthy rant which has since been deleted, @brazil_meair called McKinley "nothing but a fraud, crook, and a thief" and accused him of physically abusing her mom:
"U out her holding Porsha stomach in pics but the whole time my mom was pregnant by U … u jumped on her and beat on her. Am I lying McKinley? All the hurt you caused my mom, I'll never forgive you!!!"
The lady also exposed all the times McKinley has reportedly been shady in business dealings with other people, accusing him of sabotaging their successes. She even mentioned that he called reality star, Toya Wright, "broke" and a "D-list celebrity."
@brazil_meair then finished explosively:
"U have been trying to get on TV for the longest, that's why u tried to settle with my mom before the show aired. But everything u have done to ppl is gonna come out! U are the DEVIL & and your karma is about to come back around."
You can find full details of what she said in the screenshots below.
The shocking accusations came on the heel of reports that McKinley is locked in a legal battle with another ex-girlfriend, Shanise Thomason. After filing a trademark infringement lawsuit against Thomason, she replied by exposing some mind-blowing details about the business owner.
Thomason claimed joint ownership of the business, revealing how she met McKinley when he was "selling hair from the back of a vehicle through Craigslist" and agreed to provide the start-up funds for the business.
McKinley, 38, doesn't have too many fans among Williams' friends either. In a new teaser for the upcoming season of "Real Housewives of Atlanta," fellow housewife, Kandi Burruss called Williams' fiancée a dog after Lauren, Williams' sister, revealed he was still in touch with an ex.
The woman in the middle of all these, Williams, does not seem fazed though. She was heard telling her cautious sister in the clip:
"He got my name tattooed, so he ain't goin' nowhere."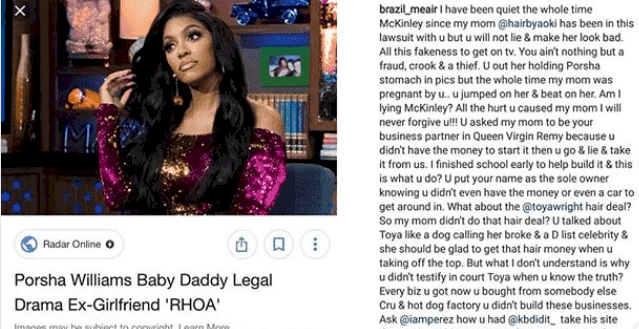 She and McKinley were also spotted together at a "Hosea Helps" charity event a few hours after @brazil_meair posted the accusations.
About two weeks ago, Williams and her husband held a prayer party for their unborn baby where family and friends joined the couple to pray for Baby McKinley.
Williams, 37, took to Instagram with gorgeous photos from the event and informed fans that the party was McKinley's idea. Everyone looked pretty happy at that get-together, but it's not sure how these latest accusations will affect the engaged couple or their family members.