Here's how Princess Eugenie's wedding compares to Meghan Markle's & Kate Middleton's
Princess Eugenie's wedding appeared no less extravagant than that of Meghan Markle's and Kate Middleton's. But we all know the devil is in the details. 
So how did the 28-year-old's ceremony really compare to her slightly higher-up female royals? Let's delve into the dress, the tiara, guest lists, and then the costs of security, cake, and flowers.
As she walked up the steps of St. George's Chapel last Friday to wed her long-time partner Jack Brooksbank, the first thing we noticed was the dress.
Follow us on Twitter for more @amomama_usa.
Eugenie was decisive about wearing a gown whose designer was London-based. The custom Peter Pilotto gown featured a low back that showed off Eugenie's scoliosis scar upon her request.
The long-sleeved dress opened at the chest in a wide v-neck shape. While the back flowed into a long train. The fabric was littered with meaningful motifs such as a thistle which symbolized Scotland, and a shamrock for Ireland to represent Eugenie's maternal family side. 
Eugenie decided to bypass the veil, which Middleton and Markle both wore to their weddings. 
Kate's 2011 wedding dress was also designed by British-based designer Sarah Burton. She went for a lacey design with a thin bodice style. The long sleeves were also done in lace and her V-neck gown was narrower than Eugenie's.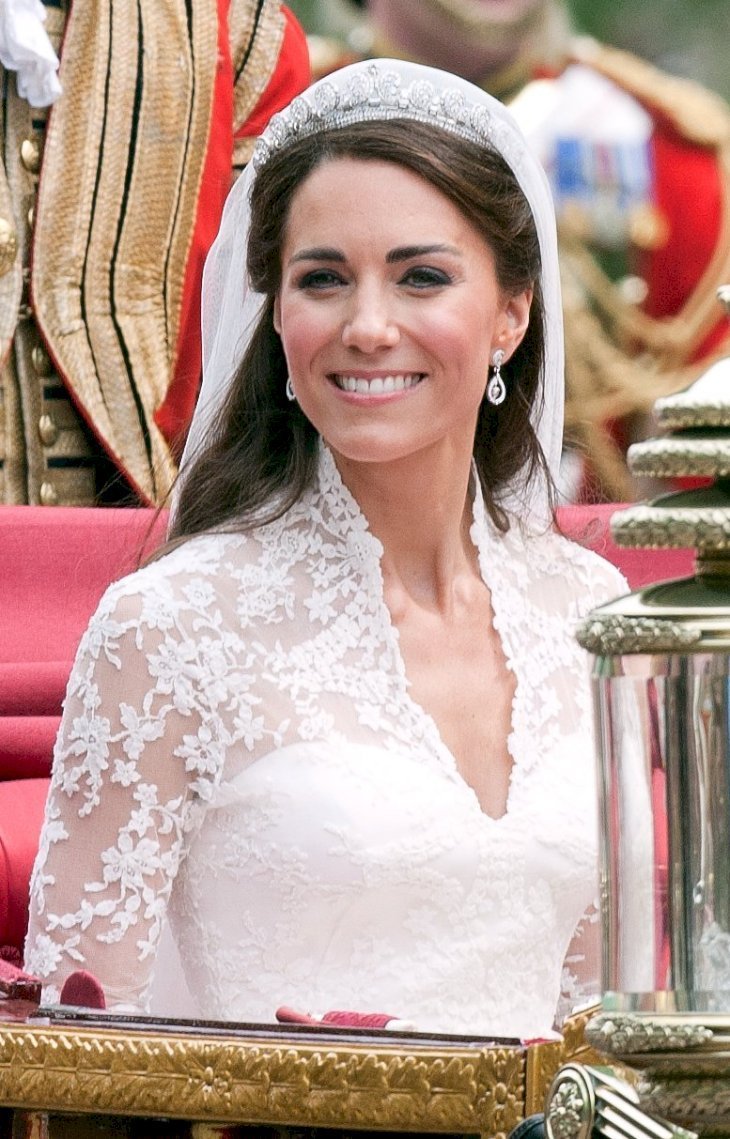 Markle's gown, on the other hand, though designed by UK designer Clare Waight Keller, was done under Givenchy, a French fashion house. The simple white unembellished gown was also long-sleeved with a Bardot classic cut. 
 A free but extremely significant piece that all three royals shared at their wedding was the tiara. Princess Eugenie adorned the Greville Emerald Kokoshnik Tiara borrowed from the Queen. 
Middleton's headpiece was the Cartier Halo tiara while Markle was donned in the Queen Mary Diamond Bandeau. All of them borrowed their pieces from the queen. 
Now that the main focus of the ceremonies has been considered, let's look at cost. 
Eugenie's dress is estimated to have cost less than the $135,000 that was estimated for Markle's gown just five months ago. The royal family covered Eugenie's gown while Markle took care of her own. 
Middleton's Alexander McQueen dress, however, was reportedly a whopping $434,000. 
The floral decor that littered the chapel was estimated to have cost $150,000 for both Middleton's and Markle's weddings. Eugenie's arrangement is assumed to have cost less. 
The princess' cake expense though, is said to have surpassed that of the others since Eugenie invited all guests from the ceremony to the reception. 
This means her Sophie Cabot cakes had to provide for all 800 guests as opposed to Markle's 200 guests at the receptions hosted by the queen. 
Princess Eugenie marries tequila brand ambassador in windy Windsor Castle wedding https://t.co/P66q9NWx0f pic.twitter.com/FHDXfOHIxW

— CBS News (@CBSNews) October 13, 2018
The cost for Markle was $5,000, so Eugenie's red velvet and chocolate cakes could have racked up around $10,000 in expenses. Middleton's reception guest list was 600 so she probably spent around the same amount as Eugenie. 
Another sky-high cost that was incurred was security. This was a point of contention because it was taken from British taxpayers. 
Eugenie's security costs were lower than might have been expected at £2 million. Markel's was £30 million, which might be explained by the presence of A-listers like Oprah and George and Amal Clooney. 
Brave Eugenie shows off the scars from her scoliosis operation in her low-backed Peter Pilotto dress. The princess had surgery for the spinal condition when she was 12 and underwent an eight-hour operation to correct it. pic.twitter.com/UWA4eNJW3T

— Rebecca English (@RE_DailyMail) October 12, 2018
Middleton's security expenses were similar, estimated at £32 million. This makes sense when the groom's position as second in line to the throne is considered.
It all came together for the royal women in three fairytale weddings that the world will never forget. 
They also all enjoyed the post-wedding receptions in which less formal, and less modest, dresses stunned guests. 
Congratulations Princess Eugenie and Jack Brooksbank #RoyalWedding 👰🤵🎊https://t.co/8V2vWFJ6RP pic.twitter.com/lH61G1Kiod

— BBC News (UK) (@BBCNews) October 12, 2018
All guests from the ceremony were invited to the reception, including celebrities like Cara Delavingne, Demi Moore, and Naomi Campbell.
But where Eugenie stood out among her peers was with her curtsy to the queen, which has been described as the best of all time.
The bow and the curtsy 😍 for the Queen from her granddaughter HRH Princess Eugenie Victoria Helena of York and her fiancé Jack Brooksbank #royal #royalwedding #bow #curtsy #be_samt #protocol pic.twitter.com/OLIjj7IAMI

— 𝗦𝗔𝗠𝗧 𝘎𝘳𝘰𝘶𝘱 (@samt_group) October 12, 2018
Despite her long dress, there was no misstep as Eugenie gave a low curtsy before her grandmother after exchanging vows with her 32-year-old husband.
We wish the newlyweds just as much of a happy and rewarding a marriage for years to come as their fellow royals.