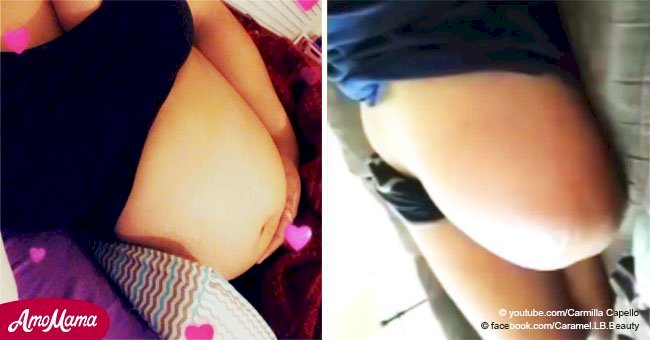 After only 4 months a woman's belly was already way too big, and the birth of her baby went viral
Carmen Trinice, from Atlanta, United States, brought a child weighing the world 11lbs 5oz on July 27
The boy, whom she has decided to baptize as Dwayne Michael Canada, at birth, became the youngest of a family of 7 brothers. His mother says of him that he is "her little chunky baby".
According to UNILAD, when she was 36 weeks pregnant, it was necessary to undergo an exploratory ultrasound to evaluate the weight of her son, since the obstetrician thought he was too big.
Carmen revealed that during her pregnancy she could not stop eating, besides, everyone in her family, including her boyfriend, fed her all the time. Her diet was based on hamburgers, red meats and especially a lot of bacon, which led the mother to climb more than 50lb.
In an interview, Carmen commented on the difficulties she faced during her pregnancy. Just standing for 20 minutes or walking a short distance made her feel sore.
Carmen gave birth to her son Dwayne Michael, who weighs almost 12lb and is the youngest of seven siblings, the delivery was really complicated but the little one is completely healthy and huge.
Carmen never imagined that her son would go viral but all her friends were impressed with the size of the baby. One of them posted a picture of Dwayne on Facebook, which was shared more than 52,000 times.
As a result of this, Carmen had to change the configuration of her Facebook account, as she began to receive around 400 messages and friendship requests daily.
The brave mom said: "I've had mothers from Texas to England messaging me congratulations or having questions about the birth or what I ate. It's been humbling knowing the first week of my son's life he's made his mark on the world."
Another baby that went virally famous was Theo Taylor, dubbed as Britain's smallest baby. He has survived despite being born the size of a Coke can.
He was smaller than his father's hand when he was born. Katie and Jay only got to touch Theo for a few seconds before he was taken away to be put on a breathing machine.
Please fill in your e-mail so we can share with you our top stories!