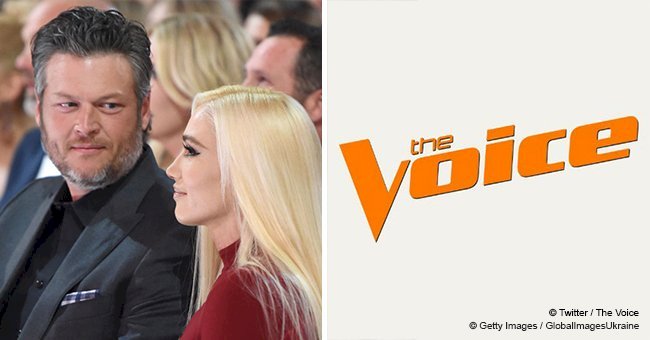 Blake Shelton gives a passionate kiss to another coach during the blind auditions

Monday's episode of The Voice surprised and delighted viewers, however this time it was not due to a contestant but for the kiss Blake Shelton gave Adam Levine.
Contestant Kirk Jay took the stage for his chance to impress the judges with his rendition of the Rascal Flatts classic, 'God Bless the Broken Road.' After barely a minute into his performance, Blake Shelton turned his chair, followed by Adam Levine shortly after. Close to the end of Kirk's audition both Kelly Clarkson and Jennifer Hudson followed suit.
He received a standing ovation for his moving performance and the time came for him to choose his coach. The usual banter ensued between the judges but then the unexpected happened. Adam Levine shocked everyone as he told the Alabama based 22-year-old Kirk that he should join Blake Shelton's team.
Read more on our Twitter account @amomama_usa.
Levine admittedly told Kirk:
"As someone who thoroughly enjoys making Blake suffer all the time, for the first time maybe in my life, I want to see you on Blake's team. I don't know why. I don't like it. I don't like that I feel that way."
It shocked Kelly Clarkson and Jennifer Hudson but Shelton promptly got up and told Levine that he is getting a kiss for that, then walked up to Levine and promptly gave him a kiss on each cheek. The efforts of Levine paid off as Kirk Jay chose Blake Shelton as his coach in the end.
It's still early in season 15 of The Voice but NBC has already announced the coaches for season 16 that is due to start in Spring 2019. Having secured a spot on the panel for next season Blake Shelton and excited about his schedule for the year ahead.
Joining Shelton as coaches next season is Adam Levine, Kelly Clarkson, and a surprise swop as Jennifer Hudson sits out season 16. In her place, John Legend will join them and is thrilled at the opportunity to discover talented singers and help them develop their gifts.
Being a coach on The Voice has given him another perspective about his life as a country singer and fame. He got added as coach by NBC in 2011 and realized since that he was not as famous as he had thought even though this country singer had an established career it brought down his confidence a notch.
While on the show Shelton also went through a tough time in his personal life as he divorced from Miranda Lambert which got highly publicized due to his position on the hit NBC show The Voice.
Thankfully more lighthearted moments like himself and Adam Levine's kiss are doing the rounds, much to the delight of his fans and viewers across the globe.
Please fill in your e-mail so we can share with you our top stories!