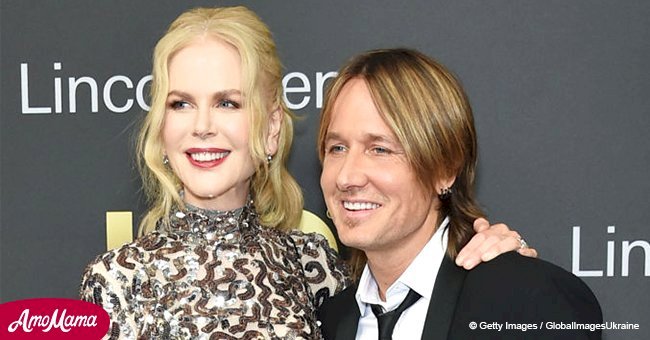 Nicole Kidman & Keith Urban pay tribute to 'International Day of the Girl' with 'Female' duet

Nicole Kidman and Keith Urban celebrate a worthy initiative by collaborating on a song on International Day of the Girl.
October 11 is International Day of the Girl and was created in 2012 by the United Nations to create an awareness of gender inequality. Keith Urban and Nicole Kidman celebrated by singing a song written by Nicolle Galyon, Ross Copperman, and Shane McAnally.
Sung by Keith Urban at the 2017 CMA Awards, 'Female' he recalls the first time he heard the song:
"It just floored me when I heard it. It spoke so strongly to me. I'm the father of two girls, a husband, a son. That song spoke to me on so many levels."
In honor of this initiative, Nicole Kidman and Keith Urban joined forces by singing 'Female' captured on video by their daughters, Faith, 7, and Sunday, 10, after which they posted it to social media on Thursday.
The couple gathers around the piano to perform their rendition of Urban's hit song and sings:
"Sister, shoulder, daughter, lover/ Healer, broken halo, mother/ Nature, fire, suit of armor, soul survivor, holy water / Secret keeper, fortune teller, Virgin Mary, Scarlet Letter/ Technicolor, river wild, baby girl, woman child/ Female."
Read more on our Twitter account @amomama_usa.
The song features on Urban's latest album 'Graffiti U' and is currently on a world tour with opener Kelsea Ballerini in the promotion of his new album. On August 18 in Chicago Urban delighted fans when he invited wife Nicole Kidman on stage while speaking to two fans already on stage to celebrate 'Baby's first time onstage.'
Video captured by a fan in the crowd shows Kidman approaching from backstage, seemingly embarrassed and surprised as Urban ushers her closer. She quickly says hello to Chicago but has no luck making her way backstage as Urban takes her hand, pulling her closer as he talks to his two fans on stage before they snap a picture of all four of them together.
Kidman reminds him that he is there to sing for his fans before making her escape backstage again so he can continue his performance.
In September Urban invited another special young lady on stage in order to make her wish come true. He paused his normal proceedings during a concert and brought Ella on stage for a special serenade. It was her birthday, and she wore a shirt with a huge 10 written on the back and the front read:
"It's my birthday and I'm going to see Keith Urban."
Urban is known to have a soft spot for children and wanted to make her night an unforgettable one. His tribute to Ella has gone viral with almost 300,000 views in four days which he shared on September 16, 2018, with the caption:
"We LOVE celebrating birthdays on the #GraffitiUWorldTour! Happy Birthday, Ella, thanks for spending it with us!!
Keith Urban warms hearts as he honors and pays tribute to women young and old, not only during International Day of the Girl but every chance he gets.
Please fill in your e-mail so we can share with you our top stories!