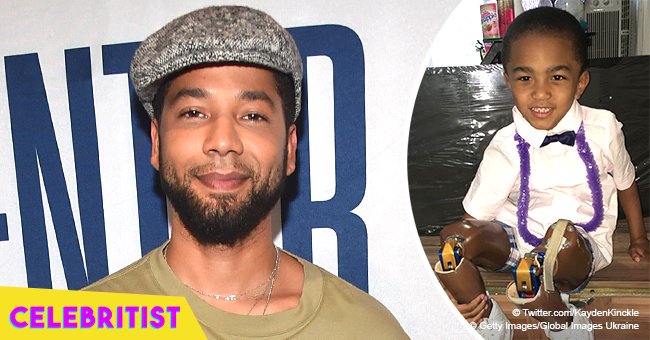 Empire' star Jussie Smollett surprises double amputee with handicapped-accessible van in new video
Jussie Smollett, best known for his role as Jamal Lyon in "Empire," surprised a six-year-old double-amputee boy named Kayden Kinckle with a handicapped-accessible van.
As TMZ reported, the man first met with the boy and his family at a hotel while the surprise was getting ready. In the video showing the event, Jussie appeared talking to Kayden and pushing the wheelchair outside of the building.
Once there, they stopped in front of a silver van. Even though Kayden was smiling, he is probably a timid boy as he didn't say much. Jussie, on the other hand, started shouting "I'm so excited! Oh my God!"
TEACHING HIM HOW TO USE IT
After that, a person gave Jussie something similar to a controller and taught him and Kayden how to use it. When the boy hit the button the man pointed, the door of the van slowly opened. Quickly after that, a strong-looking silver ramp deployed in front of Kayden, so Jussie pushed him into the van and dragged him out of it once again.
GETTING IN THE VAN
The young boy thanked the actor for his kind act. After that, Kayden tried to get in by himself. Even though it was difficult as he struggled a bit in the beginning, he was strong enough to get in with no help.
DIGGING INTO KAYDEN'S SITUATION
As NBC New York reported, Kayden was born with Omphalocele, a birth defect in which internal organs remain outside the body. Unfortunately, the boy's umbilical cord was wrapped around his legs and feet in the womb, which caused some deformity.
For that reason, doctors had to amputate his left leg and right foot in January 2014. It is not the first time that Jussie and Kayden interact, though, as the actor took the boy with him to the NBA Awards in 2017.
Apart from that, he helped promote Kayden's mother's book titled: "Stepping Out on Faith: The Kayden Kinckle Story. A Mother's Journey." With the van, Kayden and his family are expected to have a more comfortable life.
JUSSIE SHARING A BEFORE-AND-AFTER PHOTO
A couple of months ago, Jussie uploaded a before-and-after photo of him, letting everybody know that he has not changed that much. The one on the left showed him about 30 years ago as he was just a child wearing a colorful shirt, rocking an afro, and flashing his big smile to the camera.
The image on the right was a more recent one and, even though he has a beard, a mustache, and a different hairstyle, the contagious smile and the look in his eyes are the same.
Please fill in your e-mail so we can share with you our top stories!