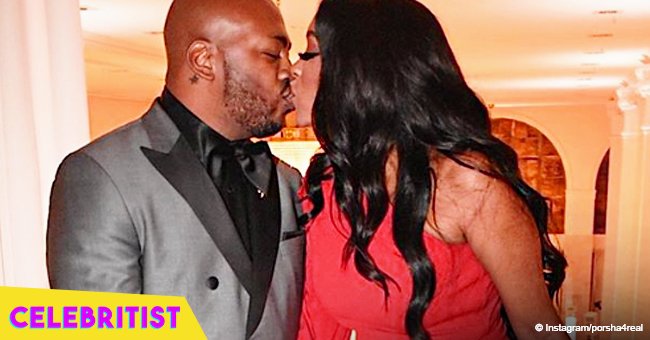 Porsha Williams' fiancé shares new video of ultrasound appointment & baby's heartbeat can be heard

Dennis McKinley, the fiancé of "The Real Housewives of Atlanta" star Porsha Williams, shared a video of an ultrasound where their upcoming baby's heartbeat could be heard.
In the short clip, the doctor's hand appeared holding the ultrasound device and moving it around Porsha's big baby bump. He suddenly stopped at one spot where the heartbeat of the baby was quite loud.
Porsha's face showed nothing but happiness as she flashed a huge smile. For the caption, Dennis wrote that it was the greatest joy and that their child's heartbeat was sounding like a champion.
PEOPLE'S REACTION
The man added that his baby would go to the University of Michigan no matter if it's a girl or a boy. As soon as he uploaded that video, his followers took to the comment section to share their thoughts.
Most of them agreed that Porsha's smile was beautiful as it showed pure love and bliss. Others added that her dreams are slowly (and finally) coming true. Many of them tried to guess the baby's gender, though it has not been revealed yet.
DENNIS' CONTROVERSY
Dennis recently got in the middle of the spotlight when the daughter of his ex-girlfriend, Jamecia, pointed out that he was a "crook and thief" as he named himself the sole owner of Queen Virgin Remy, a hair weave and extension line he and his ex-girlfriend started in 2011.
HIS COMPANY SHOULDN'T BE HIS
According to a now-deleted post that Jamecia uploaded to Instagram, she said that the reason Dennis and her mother were partners was that he didn't have money to start the company.
HE ALLEGEDLY BEAT UP HIS EX-GIRLFRIEND
Apart from that, she said that Dennis was a fake person as he was posing next to Porsha holding her belly bump, which is different to what he allegedly did when her mother got pregnant. Jamecia said: "You jumped on her and beat on her. Am I lying McKinley?"
A "DOG"
If that wasn't bad enough, the most recent trailers of "RHOA" showed Kandi Burruss, another star of the reality show, calling Dennis a "dog."
During the trailer, Porsha said that her fiancé got her name tattooed, pointing out that he would not go anywhere because of that. Lauren, her sister, chimed in and said that he had been unfaithful in the past and that he had not stopped texting his ex-girlfriend.
"RHOA" is now on its 11th season and will premiere on Sunday, November 4th. The stars Kandi, Porsha, Cynthia, NeNe, and Eva will be joined by Shamari DeVoe, Marlo Hampton, and Tanya Sam.
Please fill in your e-mail so we can share with you our top stories!