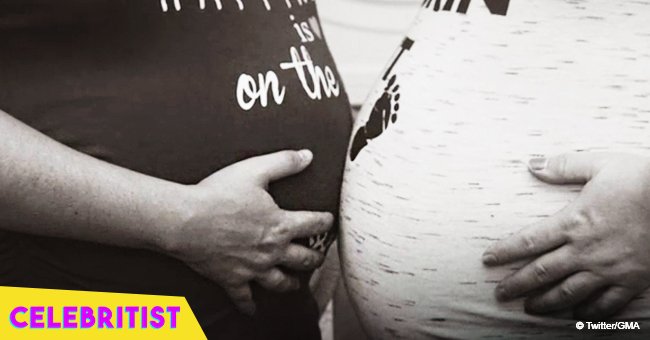 Same-sex couple are expecting daughters at the same time
Getting pregnant via artificial fertilization can be a struggle for many women, but this lesbian couple managed to get pregnant on their first try and now they're both expecting daughters on the same day.
As reported by "Good Morning America," Anna and Renee McInarnay are a married couple and expecting moms of two healthy baby girls.
Since they got their fertilization procedures on the same day, their babies are due on the same date. However, they will be induced 36 hours apart, one on Friday and the other on Sunday, so both can be present at the birth of each girl.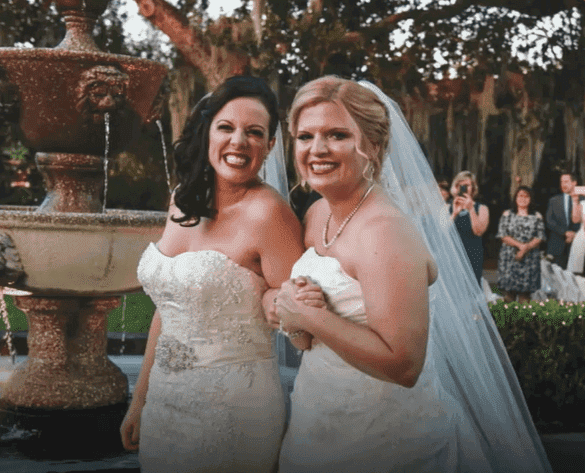 Source: Twitter/GMA
A LOVE STORY FOR THE BOOKS
Anna and Renee's love story started back in 2001 when they met while being counselors at a teenage camp. They're both teachers, live together in Hattiesburg, Mississippi, and officially tied the knot last year.
Soon after, they started to discuss the possibility of having children, but knowing that Mississippi laws on adoption for same-sex couples were complicated, they went straight for a fertilization clinic.
"We entered into motherhood hesitantly," Anna told Babble. "After reaching out to fertility clinics in our state, we felt the most love and openness from a fertility clinic when we called Audubon Fertility in New Orleans. After initial testing, we were told we could both conceive."
However, Renee suffers from a condition known as polycystic ovary syndrome (PCOS), and there was just one egg on her side, so the chances of her getting pregnant were slimmer.
A DIFFICULT DECISION
Knowing well that the possibility was still there, they both got inseminated on the same day using the sperm from the same donor. "The chances were so small. But one nurse said, 'the fact that you're here right now, there's a fertilized egg, you're ovulating at the same time. See what happens," Anna told GMA.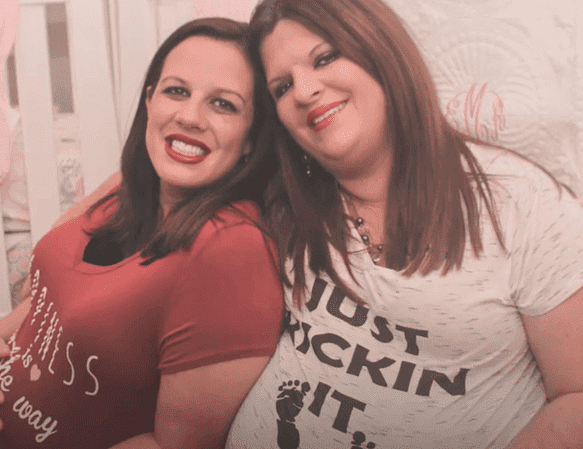 Source: Twitter/GMA
And continued:
"Thank goodness we did. I remember, in the car ride home, it was quiet, and Renee looked down and said, 'challenge accepted.' In the south, we call this a 'God thing.'"
When they got the call, the people from the fertilization clinic started by telling them Anna was pregnant, and after their initial joyful reaction, they added: "but Renee, you are too." The couple couldn't contain their excitement as they jumped around the room hugging each other and shedding tears of happiness.
The girls, who are thought of as "paternal twins" because they have the same father, will be named Avonlea Grace and Emma Reese.
A MESSAGE FOR COUPLES STRUGGLING WITH CONCEPTION
Anna and Renee are aware of the huge blessing they had. The chances of both of them getting pregnant were slim, and many couples going through the same process have to give it several tries before finally getting positive results. Sometimes, they give up and just move forward without kids.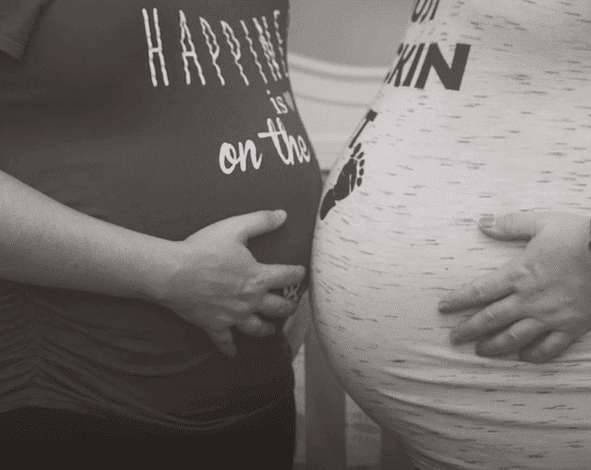 Source: Twitter/GMA
When asked by Bable what she wish people could take from their story, Anna didn't hesitate to say "hope." And continued:
"It is not lost on us how rare our experience is and how long some couples wait to have families of their own. This has deepened our gratitude for this double surprise. We hope our story brings someone else hope."
ANOTHER COUPLE ON THE EXACT SAME SITUATION
Last year, another lesbian couple that got to be pregnant at the same time are Lindsay Lanciault and Toby Fleischman. Unlike Anna and Renee, they weren't expecting their babies on the same day, as they got pregnant three weeks apart of the other.
They have been married for three years and decided to try for kids soon after tying the knot. After reaching an agreement, Fleischman was chosen for the insemination, as she was older and her window for motherhood was slimmer.
But they didn't go to a clinic and opted for making the process at home, using the "syringe method," more technically known as intravaginal insemination. Fleischman got pregnant at their first try, but sadly, she suffered a miscarriage.
TRYING TOGETHER
Fleischman kept trying, but to no avail, and after a few months, they decided to shift their attempts to Lanciault. However, Fleischman wasn't ready to give up that easily. "I wasn't ready to stop," Fleischman confessed to Pop Sugar. She remembers thinking: "'We can't be pregnant together. What are we, crazy? We can't do that.'"
With the help of a therapist and following a diet specially designed to optimize fertilization, Fleischman was getting ready to try again when they got the news that Lanciault was pregnant.
But refusing to abandon her efforts, Fleischman went ahead with her process, using the same sperm donor and method.
A few weeks later, she got the positive results.
Now, the couple has two baby boys, Rhys Alexander and Fox Lynch. They revealed they were going to start the adoption process for each child as soon as they were born.
Please fill in your e-mail so we can share with you our top stories!