Chick-fil-A employee became internet sensation after singing 'God bless The USA' in viral video
It's been three years since this incredible performance took place on Veteran's Day, but after Students For Trump founder Ryan Fournier tweeted it, Dontarius Jamel Young has become a viral sensation, again.
The video, captured in a Chick-fil-A in Oak Park, Kansas, was recorded on Veteran's Day 2015. 
Young, a team leader at the restaurant, delighted the customers with a flawless rendition of "God Bless the USA," one of the most patriotic songs out there that, aside from the National anthem, can easily make chills and tears run down the face of any proud American.
Donning his uniform and standing in front of the clients, Young put his talent to good use as he entertained the crowd and honored those who died fighting for the country. One of the lucky members of the audience got the final part of the performance on video and shared to Facebook, earning over 21million of views.
Young received praises and blessing all over social media, with most people encouraging the young man to audition for any singing competition or pursue a career in the music industry instead of wasting his talent at a local restaurant.
At the time, Young kept a level-headed attitude as he expressed his shock at the mass reaction that his performance caused, he wrote on Facebook: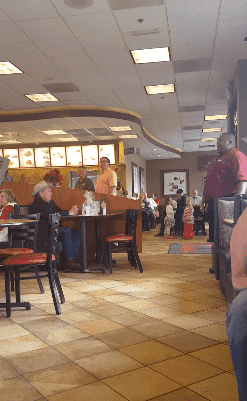 "Wow! I am truly overwhelmed! I have always been very patriotic and have always loved to sing! The fact that God's favor is being shown to me and in such an apparent way literally leaves me speechless! 1,000,000 views! Thank you all so much! I'm so excited to see what is in store and I am very grateful to have been blessed with so many beautiful and loving people in my life! It's only up from here, I still believe!!"
Even though Young didn't audition to any real competition, as most people suggested, he's still singing for God and his loved ones. Mostly, he shares the videos on his page, and he uses music to encourage his family, wish a happy birthday to friends or to honor his faith.
A RAPPER MAKES SONG ABOUT CHICK-FIL-A CLOSING ON SUNDAYS
Meanwhile, a man from South Carolina also became a viral sensation for his dramatic music video over Chick-Fill-A not opening on Sundays.
Shama Mrema, a Tanzania native and college student, decided to write a song about the disappointment he felt every time he was craving chicken on Sundays, but his friends remind him that the restaurant was closed.
He wrote the song in an hour and later contacted some friends to create the music video, which has been seen over 1 million times already.