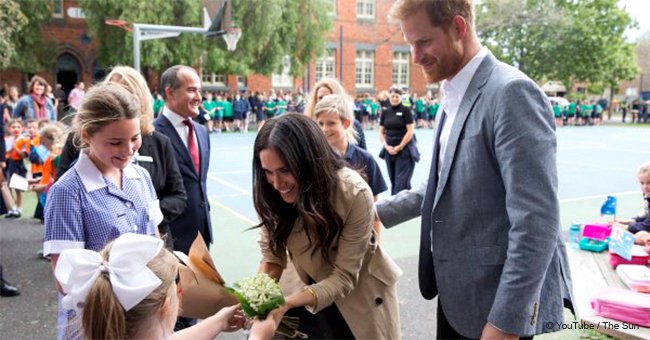 Meghan Markle just got her first tiara since the royal wedding
The Duchess of Sussex has only worn a tiara once since joining the royal family. She just got a new one but it may not quite fit.
On day three of Prince Harry and Meghan Markle's Australian tour, they visited the city of Melbourne. They were greeted by one generous six-year-old at the Albert Park Primary School.
Amidst the 600 students, Prince Harry noticed Annie as she held out a bouquet of flowers and a toy tiara. "She's gonna love them," he told the little girl. The clip, posted by user "royalmeghan" to Instagram, is found below.
Follow us on Twitter for more @amomama.
"Are they for her?" he asked. The prince called over his wife who was delighted to take the sweet gifts.
"Oh my goodness, thank you. Those are amazing," Markle, 37, gushed.
She offered Annie to keep the tiara, but the little girl responded "No."
As Markle left, Harry, 34, commended the girl with a small pat and said, "Good job."
Already the prince's loving nature is shining through. They'll come in handy as he and Markle raise their first child next year.
The couple announced their pregnancy on the weekend. Aside from the toy tiara, they have received other gifts including a stuffed kangaroo and a koala toy.
They also got a namesake gift from the people of New South Wales. Two baby koalas at the Taronga Zoo in Sydney were named after the royal couple.
The tour involved other fun activities. Markle tried out Aussie Rules football where she threw an oval ball in a reception.
The Duchess also got a scare when she tested out F1 mini cards created by Trinity Grammar students.
They did not warn her about the noise that would result when she started the 3D Model car. So when she launched them, Markle was shocked.
She bent over in laughter. "I was not expecting that," she said in a fluster.
The pair is sure to receive many more pregnancy gifts as they await their first child.
Please fill in your e-mail so we can share with you our top stories!