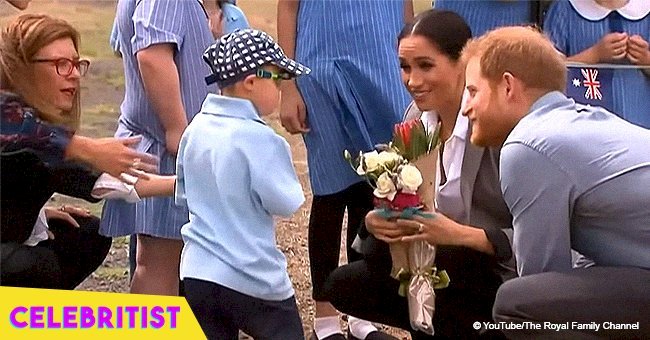 Little boy gets hugs from the royal family after stroking Prince Harry's beard
An adorable little boy proved he's Prince Harry's biggest fan yesterday by giving the Royal a special treatment he's yet to receive from anyone else on his Australian Tour. See the video below.
Five-year-old Luke Vincent rushed to cuddle the Duke and Duchess of Sussex after they touched down in Dubbo, a rural area of New South Wales.
For some reason, the little man who has Down 's syndrome was fascinated by Harry's beard. He rubbed the facial hair and gave a light tug, becoming the center of attraction for the press and other onlookers.
Meghan was left in awe of little Vincent who also had a hug for her. The pregnant Duchess held on to the flower bouquet and returned his hug heartily.
According to his teachers, Vincent's favorite person in the world is Santa Claus- now followed by Prince Harry. Anne Van Dartel, the principal of Buninyong Public School where Vincent is a student, told Daily Mirror:
"He got a hug from Meghan and then Harry bent down to speak to him and Luke didn't give him any choice! Luke's favorite person in the world is Santa Claus, who has a beard. And now his next favorite is Prince Harry. It's been a wonderful experience for these little country kids to meet people they've only ever seen on TV."
The farming community of Dubbo has been hit by a devastating drought in recent times, and Dartel commended the Royals' visit as a "real morale boost."
Prince Harry and Meghan also took the time to hug many well-wishers who came as part of a welcome party at the town's airport. 150 local schoolchildren lined the area, waving flags and flashing huge smiles for the couple.
One of the enthusiastic students, 11-year-old James Fogg told Harry he would like to become a helicopter pilot, to which the Prince replied:
"Good choice, good man."
Fogg described the chance to meet the Duke and Duchess as a once in a lifetime opportunity, and another student, five-year-old Lyra Rose, said:
"It's the first time I have met a princess and I will remember it forever."
For the visit, Prince Harry and Meghan were also welcomed by regional mayor Councillor Ben Shields, Indigenous Elder Aubrey Grace Toomey, Minister for Police and Emergency Services, Troy Grant, and his wife, Toni.
Meghan also made a show of support for her close friend, Serena Williams, by rocking a blazer from the Tennis champion's "Serena" collection.
The Duke and Duchess of Sussex commenced their Australian Tour on Monday a few hours after announcing they were expecting a baby.
So far on the trip, Meghan and Harry have received their first baby gifts, visited the Taronga Zoo, and interacted with tons of fans in Australia who continue to turn up with exciting displays.
Please fill in your e-mail so we can share with you our top stories!