High schooler who sounds just like Michael Jackson steals the show in viral video
Ezekiel Hargrove became an internet sensation after a couple of videos of him singing went viral. Apart from his infectious passion, his voice sounds just like Michael Jackson.
The young man is a student at Port Charlotte High School in Florida. Even though he has been singing probably for a long time, there were no videos of him doing so on social media.
Thankfully, some of his friends recorded him reciting some songs and uploaded them to Twitter, where people quickly shared and retweeted them. Ezekiel is a die-hard fan of the King of Pop as those clips show him singing covers of his songs.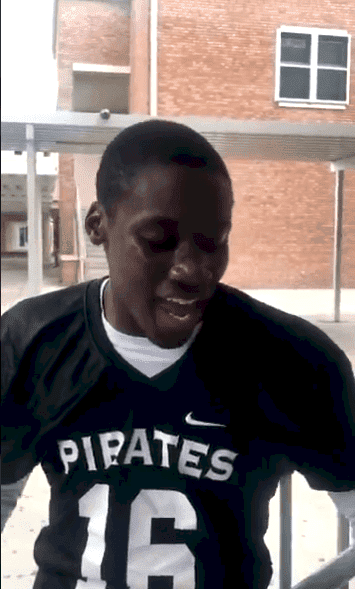 THE FOOTAGE THAT MADE HIM FAMOUS
One of the clips that made him famous was uploaded by a Twitter user who goes by @claudiaorisakwe. In it, Ezekiel was in the school's hallway surrounded by a couple of friends while singing and dancing.
Y'all better make him go viral!!! He sounds just like Michael Jackson. pic.twitter.com/jBJYu1wE6d

— claudia (@claudiaorisakwe) September 5, 2018
THE NEXT CLIP ABOUT HIM
At the moment, that video has garnered more than seven million views. Later that day, the user uploaded another clip that also seemed to be recorded in the school. His voice was so beautiful that the person recording couldn't stop gushing about it.
he's back for part 2 pic.twitter.com/7t4nFV6Q2H

— claudia (@claudiaorisakwe) September 5, 2018
SINGING IN FRONT OF THE CLASSROOM
The third and last video showing Ezekiel singing so far portrayed him in front of the classroom next to who seemed to be the teacher. Apparently, they found out that his previous videos went viral, so Ezekiel was asked to showcase his skills in front of everybody.
According to Ezekiel's social media accounts, music is his passion, and he hopes to pursue it. In his YouTube channel, he has uploaded a handful of covers, including him singing "I'll Make Love To You" by Boyz II Men, "Human Nature" by Michael Jackson, and "Let Me Love You" by Mario.
Ezekiel is not the only person who has attracted a lot of attention with a cover of one of the songs of the King of Pop. Kawehi uploaded a video of her cover of "The Way You Make Me Feel" that has more than five million views nowadays.
Apart from them, a young boy named Shaheen Jafargholi also wowed the world with his tribute to Michael during his memorial in July 2009. The then-12-year-old boy sang the Jackson Five hit "Who's Lovin You?" in such a way that people couldn't help but give him a standing ovation.
Kenny Ortega, a choreographer who worked with Michael during several years, revealed that the King of Pop personally requested to have Shaheen in his London concert before passing, so he felt that inviting him to the memorial was what Michael would have wanted.