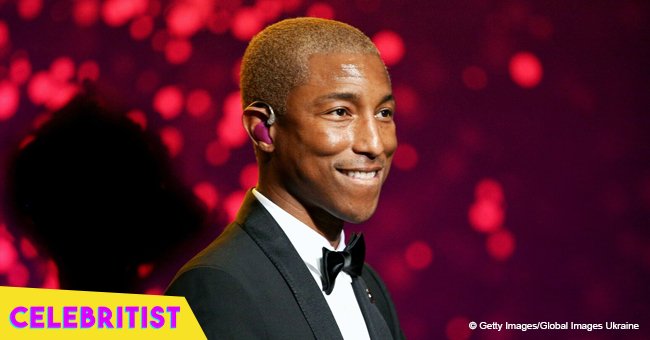 Pharrell Williams posts photo with wife in long jacket after speaking out about their triplets
Pharrell Williams likes to keep most of his private life away from the spotlight, but that didn't stop him from sharing a beautiful shot with his lovely wife on the beach. The couple welcomed triplets last year, and Williams recently opened about the incredible team effort that is raising them.
The iconic rapper and record producer has made a name for himself not only in the music industry but also in the fashion world. His eccentric style has everyone in the industry looking forward to his outfits, and even when he's relaxing, he keeps up his quirky fashion.
In the pic, shared to his Instagram and shot at the "Channel By The Sea" fashion show in Paris, Williams is donning a white Chanel jacket with the name of the brand on it, khaki pants and black-and-white sneakers.
His wife, Helen Lasichanh, stood proudly beside him wearing a long floral printed jacket worn over a black gown and matching shoes. She completed the look with a burgundy purse and few accessories.
As a House Ambassador, Pharrell and his wife had the privilege of being one of the first to see the newest collection of the fashion brand, according to Chanel's Instagram account.
A LOVE HISTORY
Williams and Lasichanh have been dating since 2007 but got married five years ago. However, Pharrell admitted that he had to work hard to earn the trust and love of Lasichanh.
When they met, the hitmaker was still riding on the wave of his fortune and fame, cheating on his girlfriends and thinking he was not ready to settle with just one woman. Lasichanh rejected his advances at first because she had a boyfriend, but they remained friends.
Later, when she became single again, Pharrell was put in the spotlight. He had been showering her with attention but was not ready to stay loyal, so he admitted to having hurt her a lot in the beginning. In the end, they both made a compromise and started dating, and the rest is history.
Now, they're the proud parents of four kids, 20-year-old son Rocket and a set of 1-year-old triplets, that have yet to make their official debut in the spotlight. The singer hasn't even revealed the genders or names of the babies, but he says they're a handful.
TAKING CARE OF TRIPLETS CAN BE A LOT
In a visit to "Good Morning America" last September, Williams admitted that taking care of triplets requires a lot of help. "We're not alone," the "Happy" singer said, revealing that Rocket has been of great help as a big brother.
"Our parents are involved, and we also have a staff," he added.
He went to specify that they have around 12 nurses employed for their children's care, leaving the hosts and the audience in shock. He said:
"In terms of nurses, we have like, 12 people. Twelve ladies are in constant rotation: three in the morning, two at night."
Co-host, Sara Haines, found Williams' admission quite impressive and joked "I've got to up my game." Even Michael Strahan, who is a father to 13-year-old twin girls, was stunned.
LASICHANH IS A BOSS LADY
Last year, Williams praised his wife for her strength, referring to her admirably as "SEAL team six" and declaring, "there's nothing she can't do."
The former "The Voice" judge added, "She carried those three bodies, and she's just on it all the time."
His praises weren't just for his wife though. On an interview with Essence while promoting the film "Despicable Me 2," he talked about the role of black women in America and the utter respect he has for them.
"Black women endure a lot," he said. "Women endure a lot period, but there is a different kind of gravity that Black folks experience in America… Black women, they're everything."
Williams still has a lot on his plate professionally, but he still manages to make time to spend with his kids and his gorgeous wife.
Please fill in your e-mail so we can share with you our top stories!