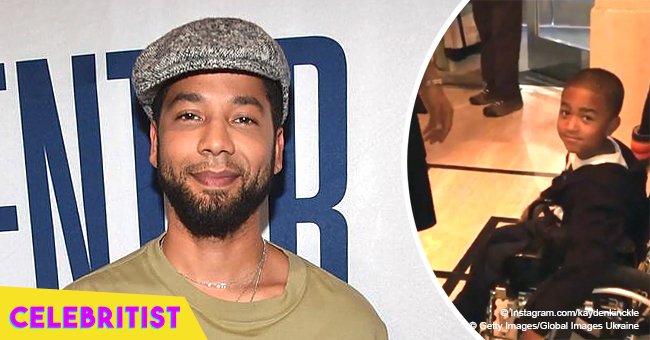 Young amputee surprised by Jussie Smollett with wheelchair accessible van shares touching photo
Jussie Smollett earns the love of a young amputee after The "Empire" star gifted the boy with a special van. The actor has been spending time with the 6-year-old since learning about his inspiring story.
Jussie Smollett is an actor, a singer and a good cook, but he's also very passionate about philanthropy. In fact, he recently gifted a 6-year-old bilateral amputee with a wheelchair-accessible van because he felt the boy needed one. The boy was so grateful he posted a photo and declared his love for Jussie.
WHERE'S MY RIDE?
Kayden Knickle was in the news recently due to his problems getting a ride to school. He's a double amputee who used to take a handicap-accessible school bus to school. However, there were problems this year when the Englewood Public School District where his school is located failed to provide the proper ride for him. The bus never arrived on his first day of school. He had to wait at Grieco Elementary School for a regular bus to drop off students and come back for him so an aide can assist him in getting on the bus.
MAKING HEADLINES
His story was in the news after Kayden's mother, Nicole Sessoms spoke to CBS2's Ali Bauman. This prompted immediate action from the district who said that there was a mix-up in paperwork with the bus company. They did, however, temporarily hire a lift-bus from another agency.
At the time, Jussie had already been friends with Kayden's family after hearing about him on social media. He would spend time with the little boy who was known to inspire people with his daily Instagram videos and children's books.
THE GIFT
When Jussie heard about his transportation problem, he provided a solution. He decided to buy the 6-year-old his own wheelchair accessible van. Nicole recalled the day Jussie called her about it.
"He saw what was happening with the bus and he called me and said 'Kayden needs his own van!'"
Shortly after, the 35-year-old actor surprised Kayden while they were hanging out in New York City. He had the van delivered to them there. A video of Kayden seeing his van for the first time was posted on his social media account and his smile was just priceless.
Kayden told his followers that the van would be very useful to him especially since he was due for a surgery the next month. He won't have his prosthetic legs for a while so the van will help him get around.
THE DECLARATION OF LOVE
Kayden was so touched with Jussie's gesture he shared another photo where he also declared his love for the actor. The photo featured him and his mother hugging Jussie after receiving his special gift.
"We love you #jussiesmollet," Kayden wrote in his caption.
WALKING IN FAITH
Kayden was born with a birth disorder called omphalocele. The condition causes internal organs such as the gallbladder, spleen, intestines, and liver to form outside the body. He was also born with his umbilical cord wrapped around his legs which caused their deformation. Doctors knew then he was never going to be able to walk.
But Kayden has proven to exceed expectations according to his mother. In fact, she's been documenting Kayden's development to show the world how he overcame obstacles.
When Kayden was a toddler his right foot and left leg had been amputated. Soon his right leg had to be amputated as well after he tore his ACL due to his weight. A Go Fund Me page was set up for Kayden in order to raise funds for a motorized wheelchair. It would be useful to him when he gets tired of walking on his prosthetics.
Nicole challenges her son every chance she gets so he doesn't feel limited by his disability. She's also grateful to her five other children for the support they've been giving their brother.
A MAN FOR OTHERS
Meanwhile, Jussie has been very active in helping others too. The "Empire" actor and "Smollett Eats" star released his first studio album, "Sum of My Music" in March and announced that part of the proceeds of his tour was for the benefit of "The Black Aids Institute" and "Flint Kids."
The openly gay celebrity was also on hand to entertain students with Michelle Obama during "College Signing Day" in Philadelphia. He sang "You're So Beautiful" for the students of Temple University and the former first lady joined him on stage to dance along. The event was held to honor high school students heading off to college. Over 8,000 students were there to witness the annual gathering.
Please fill in your e-mail so we can share with you our top stories!