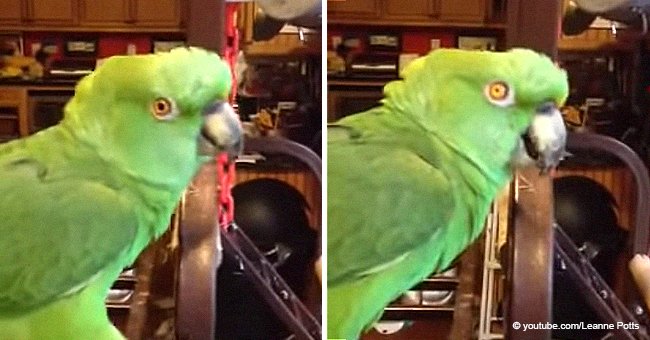 Talented parrot hilariously belts out country classic in viral video
A parrot named Henry became a viral sensation after belting out Jimmy Buffett's intoxicating hit.
In this YouTube clip, Henry the Amazon parrot can be seen singing Buffett's "Margaritaville."
At first, the parrot was calmly wandering around the top of his cage. He then broke into an unrehearsed performance of the hit tune's catchy chorus.
Henry clearly sang, "Wasted away again in Margaritaville."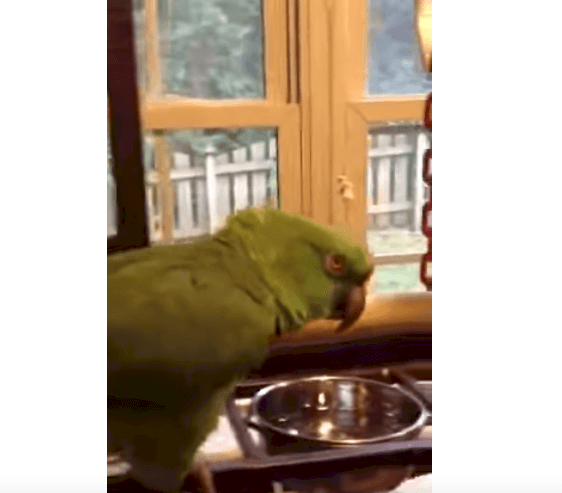 Source: YouTube/Leanne Potts
Follow us on our Twitter account, @amomama_usa, to learn more and scroll down to watch the video below.
After taking a brief pause, he continued singing, "Searchin' for my lost shaker of salt."
Towards the end of his performance, Henry hit a bit of a wall. It seemed as though he was eager to overlook his current cover and begin another one.
But the owner urged him to complete his song, briefly singing along with the feathery entertainer to jumpstart his memory.
Henry ended his performance by singing, "But I know, it's my own damn fault."
Since his video was uploaded to YouTube, it has been viewed more than one million times. A lot of netizens also added their thoughts via comments.
One user wrote, "The most talented bird I've ever heard!! He's Amazing! Can you teach my amazon?! LOL "
"He's precious! It's 6 years later, hope Henry is still singin' and orderin' drinks!" added another user.
Another parrot that won people's hearts is one that was caught on camera singing out the lyrics to Sia's hit song "Chandelier."
The parrot's stunning display of talent made him a web sensation.
The bird began singing the tune when it was separated from everyone else, but the owner had secretly hidden inside the house to film the parrot.
Numerous individuals have encountered singing to the best of their capacities when they are sure that nobody is watching or tuning in to them. A comparative thing occurred with a pet parrot.
When it began raining while the parrot was on the deck, it found the ideal opportunity for singing out the tune of its favorite song. Luckily, the owner was still in the house, and he had managed to roll his camera.
Please fill in your e-mail so we can share with you our top stories!