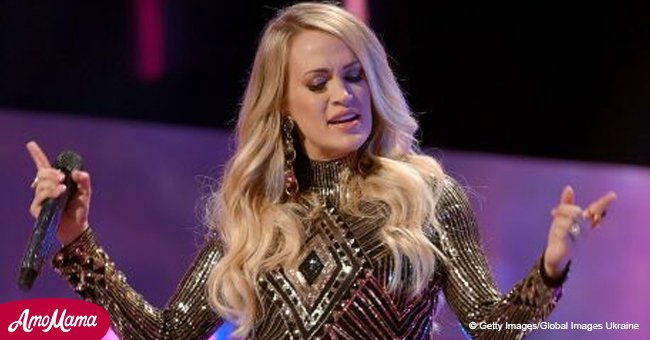 Pregnant Carrie Underwood on how to combine work and motherhood

During the three years she has spent as a working mother, nothing has made her slow down, except for her infamous 2017's fall. Nowadays she is touring and recording while pregnant and she seems to have it figured out.
On October 16, the eighth CMT Artists of the Year awards ceremony took place in Nashville marking a very special occasion for the yearly celebration of country music by featuring an all-female lineup of honorees for the first time.
35-year-old Carrie Underwood, who is expecting her second child, was there and US Weekly used the opportunity to ask her about her experience being a successful artist and being mother to a toddler.
"Balance is what it's all about. No matter what your job is. Being a mom, working and dividing your time. It is what we all have to do as mothers," said the "Cry Pretty" singer. Read more on our Twitter account @amomama_usa
TOURING MOM
Underwood's upcoming tour will take off in May, once her second baby arrives, and she will face the challenge of taking the road with not one but with two children. It can sound scary, but she is very optimistic and confident about it.
"I'm not gonna sleep, but I did it once with one — how much harder could it be?" the songstress had previously said in a previous interview, referring to having traveled with her son Isaiah on her "Storyteller" tour.
But when Isaiah joined his mother on tour, he was already 11 months old. Now, Underwood will raise the level of difficulty taking an infant and a 3-year-old with her for her "Cry Pretty 360 Degree Tour."
"It's going to be a different ball game, for sure. My brain, I'm such a planner. I want to know how it's all going to go. But no matter who you are, you make it happen, you make it work, you get your team behind you."
-Carrie Underwood, The Tennessean, August 13, 2018.
HAPPY NEWS
Underwood and her 38-year-old husband, hockey player Mike Fisher, announced they were going to become parents of a second child in August with a fun video shared on Instagram.
"Mike and Isaiah and I are absolutely over the moon and excited to be adding another little fish to our pond," she said.
SECOND TIME IS HARDER
As the singer told ET, on her current pregnancy she has been experiencing different symptoms than those she had when she was pregnant from Isaiah.
"When they say every pregnancy is different, it really is. Just different symptoms. I feel like this one is just a little harder on my body for some reason. But it's been really good," Underwood admitted.
SHE KNOWS MORE THAN SHE IS TELLING US
On September 19, Underwood made an appearance on the "Ellen DeGeneres Show" and she revealed to the popular TV host that she already knew what the sex of her unborn baby is, but she is not going to reveal it for now.
"We like to kind of just hold on to things for a minute. "I feel like everyone knows just everything about everybody, so we just like to have a little secret for a little while," she told DeGeneres.
SHE AND HER HUSBAND OVERCAME DIFFICULT TIMES
Before getting to the happy place she is now, Underwood had to endure a lot of emotional pain for a couple of years. The star revealed recently that she had suffered three miscarriages in two years before her current pregnancy.
"I'd kind of planned that 2017 was, you know, going to be the year that I work on new music, and I have a baby. We got pregnant early 2017, and didn't work out," she told CBS News in September.
She revealed that she was pregnant once again in the spring of 2017 and in 2018, having miscarried again on both occasions.
"I got mad… I was like, 'Why on Earth do I keep getting pregnant if I can't have a kid? Like, what is this? Shut the door. Like, do something. Either shut the door or let me have a kid. 'And for the first time, I feel like I actually I told God how I felt," Underwood shared.
SHE THOUGHT SHE WAS TOO OLD TO HAVE CHILDREN
Following the face injury for which she needed more than 40 stitches and months being concerned about her face not looking the same after it, Underwood gave an interview in which she said she was afraid she was too old to have children.
She also used the opportunity to address malicious rumors that suggested that she had made up the story about her accident to cover the fact that she had undergone plastic surgery.
Now that we know everything that she had to face in private, it is understandable that she almost gave up her dreams of giving Isaiah a sibling, but luckily she regained her strength and confidence and she is back on track.
Please fill in your e-mail so we can share with you our top stories!