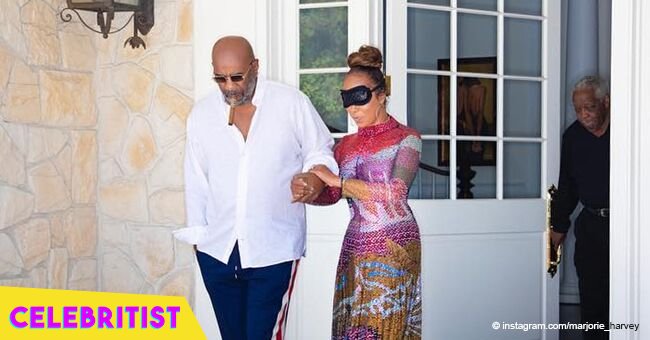 Steve Harvey wows wife Marjorie with massive present which got her running on her 54th birthday

Marjorie Harvey, the wife of TV host Steve Harvey, turned 54 on October 10. Her husband surprised her with a very unusual but fun gift that involved other members of her family.
On her birthday, Marjorie took to Instagram to share a couple of images showing some highlights of such special day. One of them portrayed Steve wearing a white shirt, blue pants, and sunglasses while escorting his wife out of their home.
Marjorie was wearing a multi-colored dress with a black blindfold covering her sight. In the caption, Marjorie didn't reveal much about it as she just wrote: "Birthday surprise" next to a heart emoji.
GETTING READY FOR THE FUN
For the next post, Steve was standing a couple of meters away from his wife while Marjorie, who removed the blindfold, was walking front. Her excitement was more than evident as she was flashing her beautiful smile and holding up her dress to avoid tripping.
PLAYING WITH THE FAMILY
Finally, the third post was a slideshow portraying the surprise in detail. It was a life-size inflatable field for a game of bubble soccer. In it, there was a big inflatable soccer ball and some members of the Harveys were in their "inflatable suits" ready to play with Marjorie.
One of the pictures set clear that Marjorie took off her dress and put on a more comfortable outfit to join the fun. Another image showed Steve in one of the balls enjoying the day with his wife and family.
REACTING TO THE POSTS
For the caption, Marjorie revealed that it had been the "best day ever." As soon as she uploaded those photos, her followers took to the comment section to share their thoughts.
While most of them sent their best wishes to Marjorie and her family, others praised Steve for such an amazing surprise, and pointed out that they really knew how to "enjoy life."
CLEARING UP RUMORS
Those photos that Marjorie uploaded are just another proof of the loving relationship she and Steve have had. It is also a way to clear up all the divorce rumors that have been surrounding them for a while now.
As BET reported, the latest speculation about it suggested that Steve would give Marjorie $400 million in a divorce settlement because of his alleged affair with his close friend, Kris Jenner.
DATING KRIS JENNER?
Several rumors have linked Steve and Kris in a secret romance for "having closed-door meetings, endless phone chats, and nonstop text messages." For that reason, Marjorie allegedly asked for the divorce.
However, the couple has proved many times that it is not true. The "King of Comedy" even revealed that Marjorie once asked him if they had $400 million, to what he replied: "Nah, not yet."
Please fill in your e-mail so we can share with you our top stories!