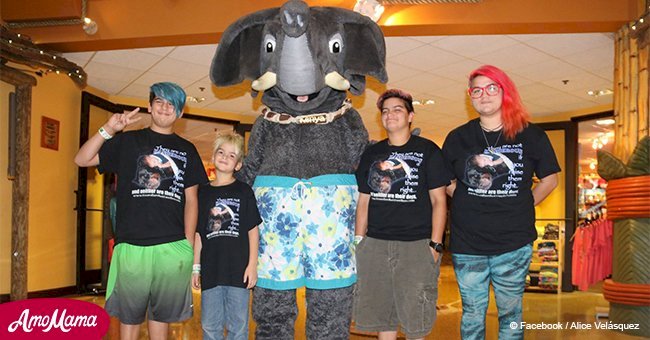 The way this woman made her children clean a room sparked controversy
On March 9, 2016, Alice Velasquez posted a picture of her solution to a problem many parents have dealt with some time or the other causing mixed reactions from other parents.
Alice is a mother to four children, sisters Liliana and Tahlia, and brothers Ethan and Korbin. After repeatedly telling her children to clean their rooms and refusing to clean up after her teenagers any longer Alice took a stand.
Mom, Alice went into her daughter's rooms with plastic bags and picked up everything that was lying around, stuffing them into the bags as she went along, she then piled it up in the corner of the room.
Read more on our Twitter account @amomama_usa.
When her daughters arrived home, she told them if they wanted their belongings back, they'd have to earn it back by doing chores, each bag would cost $25 a piece. Alice posted the picture of the stacked up bags on Facebook with the caption:
"What do you do when you are DONE telling your teenage daughters to stop letting their room look like homeless people live there? You put everything (YES EVERYTHING) into plastic bags and you sell it back to them for $25 a bag (and they have to earn the money doing chores)."
In the end, the siblings helped their sisters by doing chores so they could buy the bags back. The unusual approach Alice used drew a lot of support, but also some criticism.
When she appeared on the television show 'The Doctors' Alice spoke about what happened and her solution to the problem, the audience applauded her while specialists on the show commented that her method in handling the problem wasn't harmful.
Cleaning can be as much of a mountain to children as it is for grown-ups at times. By helping your children from a young age to learn the responsibility of cleaning up after themselves can be good for them in the long run, and helpful in keeping the house clean. Young children often don't know where to start to get their rooms clean again, so giving them direction on what to do when is helpful.
However, asking a two-year-old to vacuum might not be such a good idea, so keep to chores that are age appropriate and to things they can actually get done.
Setting up checklists when they are old enough to read with boxes they can tick off as they go will give them a sense of accomplishment while getting their chores done. Cleaning can be fun if turned into a game for them, put a timer on a chore to see if they can beat the clock.
Incentives are also a great way to make it easier for them, for instance, if you are planning a fun family activity, have everyone pitch in to do their share, with the fun activity being the incentive.
But sometimes you just have to let things go if you have children the house cannot always be sparkly clean. One day your children will leave the house and all will be quiet and clean and you will miss their laughter and play, and perhaps even them messing up the house from time to time.
Discipline and how to go about it have been a controversial subject for years now. Schools are struggling to reprimand ill-behaved children, and a school in Georgia decided to bring back corporal punishment.
Georgia School for Innovation and the Classics in Hephzibah, Georgia, sent consent forms to parents asking permission to paddle naughty students, hoping it would combat the many issues the school faces because of ill-discipline.
The form reads as follows:
"A student will be taken into an office behind closed doors. The student will place their hands on their knees or piece of furniture and will be struck on the buttocks with a paddle."
Also specified is that the children will receive no more than three smacks in one sitting. The practice is still legal in 19 states, including Georgia. While some parents were pleased others have not been supportive.
Please fill in your e-mail so we can share with you our top stories!