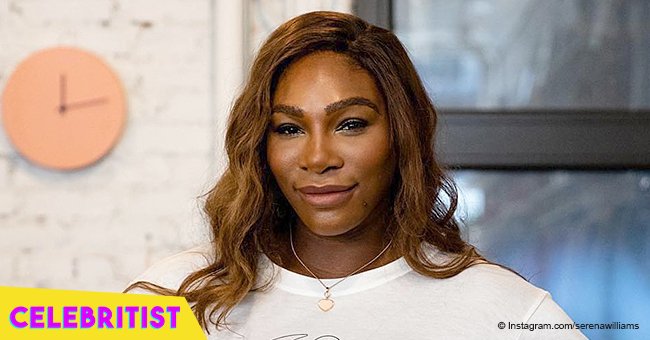 Serena Williams' daughter rocks leopard-print pants standing next to her very own tree in photo
Olympia Ohanian, the daughter of Serena Williams and Alexis Ohanian, posed in a beautiful outfit next to her tree in the family's backyard.
For the post, which was uploaded to the one-year-old toddler's Instagram page, she appeared wearing leopard-print pants, white shoes, and a sleeveless, white shirt. Her face showed nothing but joy, proving how happy she was about playing in the grass.
Apart from the girl, the aspect that attracted more attention to the image was the tree that was next to her. In the caption, the person managing Olympia's account wrote: "My tree! A year later and it's still taller than me," next to an unamused face emoji.
REACTING TO IT
As soon as they uploaded that photo, her followers took to the comment section to share their thoughts. Most of them praised Serena and Alexis for making their daughter enjoy life, while others pointed out that the tree was "just perfect."
GIVING UP
Recently, Serena uploaded a photo on Instagram addressing her life as a mother. In it, she appeared in the middle of her living room with her hands up in surrender due to all the toys that were scattered around the floor.
For the caption, the tennis player admitted that she used to have a living room but that she now had a playroom. There was a toy dog, a slide, some blocks, stacked colorful rings, a Fisher Price set, and some other things.
JUGGLING HER TIME
In an interview Serena had with People, she revealed that she was still juggling her time between parenting her daughter and the rest of her career obligations, which is more than practicing and playing tennis, which is challenging already.
"It's been so hard balancing being a mom and starting my clothing line, as well as playing a professional sport! However, it is the challenge that makes it fun!" confessed Serena at the 5th Annual Imagine Ball Honoring Serena Williams Benefiting Imagine LA.
STEPPING OUT OF HER COMFORT ZONE
One of the most recent activities Serena did that was not related to tennis was stepping out of her comfort zone in honor of Breast Cancer Awareness Month.
She went topless while covering her breasts with both hands and performing a cover of Divinyls global hit "I Touch Myself." The mother-of-one said she did it "to remind women to self-check regularly."
"I wanted to do it because it's an issue that affects all women of all colors, all around the world. Early detection is key - it saves so many lives. I just hope this helps to remind women of that," wrote Serena in the caption.
Please fill in your e-mail so we can share with you our top stories!