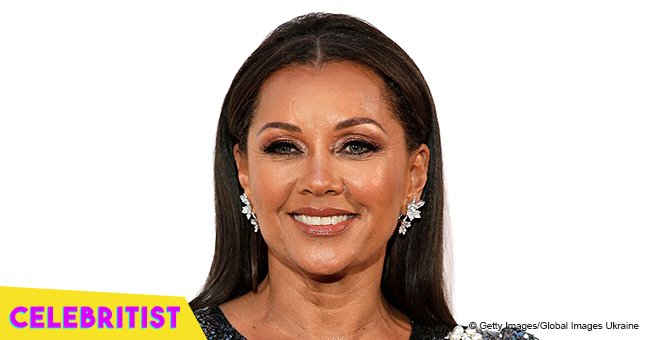 Vanessa Williams, 55, enjoys romantic date night with her 3rd husband in recent photo
Vanessa Williams loves to keep the romance alive with small but meaningful details, and she recently enjoyed a cozy date night with her third husband, Jim Skrip, as shown on an Instagram post.
Even though she has a full schedule with her acting and singing compromises, Vanessa Williams always finds time to spend in the company of her loved ones. And now that all of her children are out of the house, she can focus her attention on her husband, businessman Jim Skrip.
The couple recently enjoyed a romantic date night, and Williams had to document the special moment to share it with her fans on social media. She took to Instagram to post a pic sitting beside Skrip in a comfy booth at iPic Theater, an exclusive cinema room.
Williams was rocking a furry vest with a sweater underneath and her reading glasses, while Jim kept it casual donning a grey hoodie. The couple looks like any other middle-aged marriage enjoying a movie night, and fans loved that they're so relatable.
"Lucky ladies like us with adorable hubbies to date," commented one fan, and another added, "You're so beautiful I'm glad you and your husband are haven't a date night, and that's a great place to have it. If you're ever in California try the ipic in West LA."
TWO MARRIAGE CEREMONIES
Williams and Skrip met back in 2012 on a cruise around Egypt. At the time, Vanessa was single, and it was thanks to the encouragement from her interpreter that she ended up talking to the man. They discovered they had a lot in common, so even after returning to America, they kept on talking and eventually started to date.
The couple first tied the knot in an Egyptian themed ceremony in 2015, in his hometown of Buffalo, New York. And the next year, they had a second ceremony, this time on the Catholic church in which Williams grew up at Chappaqua, New York.
The "Ugly Betty" star said of her husband to People:
"Jim is a real man. You want somebody in your life who has integrity, who is solid, who knows who he is. He's romantic, and he's a great guy."
"Vanessa is a very strong, down-to-earth person, full of love, who values family and friends, practices her faith and is a great mom. Her beauty inside matches her external beauty."
THE SECOND GENERATION
Even though the couple doesn't have kids of their own, Vanessa is the proud mother of four kids from her previous marriages.
She shares daughters Melanie and Jillian, and son Hervey with Ramon Harvey, a PR specialist that was hired to revive her career after the Miss America fiasco back in 1984. Her youngest daughter, Sasha Fox, is the result of Vanessa's marriage to former NBA star turned actor Rick Fox.
Of all the kids, it was only Jillian who inherited the passion and love for the entertainment industry.
The gorgeous girl is the vocalist of the band Lionbabe, and she has already played a set in Coachella and collaborated with artists such as Pharell and Childish Gambino.
Vanessa recently gushed about her three daughters by posting an adorable pic to her Instagram to celebrate "National Daughter's Day." In the shot, the three girls look happy about spending a night together, as they sit on a table in the middle of a fancy restaurant.
The 55-year-old must be proud, and her husband Jim too.
Please fill in your e-mail so we can share with you our top stories!