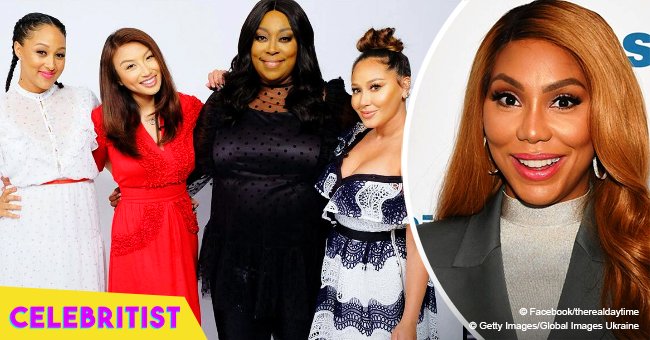 'The Real' co-hosts explain why they didn't replace Tamar Braxton on the show
After opening up about the reason Tamar Braxton was fired from their show, the co-hosts of "The Real" now reveal why the singer has not been replaced.
There's been a lot of talk lately about Tamar Braxton's abrupt exit from "The Real" last May. After months of silence, her co-hosts recently opened up about the reason she was allegedly fired. Tamar responded by implying she wouldn't want to return to the show. Now her co-hosts are saying there's a reason her slot hasn't been replaced.
A SPECIAL BOND
Loni Love, Tia Mowry, Jeannie Mai, and Adrienne Houghton are proud of the friendship they've forged over the years. It's a connection that was built solely on their constant "Girl Chats" both in front and behind the cameras of "The Real."
They were originally five women until Tamar was surprisingly booted out of the show. Recently, the ladies revealed what they think transpired that led to the singer's departure.
WHY TAMAR LEFT THE SHOW
It was Loni Love who spilled details during an interview with "The Breakfast Club" along with her co-hosts. In her version of the story, Tamar asked for her help to find her a new manager. Tamar was then being managed by her now estranged husband Vincent Herbert. Loni referred Tamar to a manager but was later surprised to learn that Tamar was being relieved from their show after two seasons.
Unaware of the story behind Tamar's exit, Loni revealed she bumped into Tamar's sister, Towanda Braxton on the plane. She alleged Towanda alerted her about an upcoming episode of their family's show, "Braxton Family Values." In the show's raw footage obtained by Loni, Vincent blamed Tamar's co-hosts for having her fired because of jealousy. That portion of the show never aired after Loni threatened to take legal action for defamation.
Meanwhile, Towanda denied any involvement and accused Loni of lying. She did admit bumping into Loni on a flight but she said, "it was NEVER a heads up." She also said she immediately called Tamar after seeing Loni. She insisted, "the interview circulating that I'm included is [expletive language]."
TAMAR CLAPS BACK
On her part, Tamar clapped back during an interview with Andy Cohen on his show. When the host asked when the last time she spoke to her co-hosts was, she revealed it was at the Emmys. But when Andy inquired if she would consider returning to the show, she asked,
"Would I return to do what?"
Andy clarified, "To be on the show, sweetie."
"I don't know – Andy, you're the best."
Sensing her answer, Andy spelled it out for her.
"I have a feeling the answer is no!"
CLOSER THAN EVER
While Tamar wouldn't think of returning to "The Real," her spot remains vacant. Her former co-hosts maintain it isn't in their power to decide who gets cast or who gets fired from the show. According to Adrienne during an interview with Essence,
"The same way we can't get rid of people on the show, we also can't stop them from adding one."
Adrienne adds that losing a co-host was a difficult ordeal but it made those who were left close than ever.
"In all honesty, there was a moment in time when we said, 'Why is this happening to us?' But because of going through that, we more than ever value this…and what we went through has made our bond so much stronger. And we're grateful for that so we value this; its precious to us; andwe don't allow anything to infiltrate this."
"You can't force this," Tamera adds.
It's unclear why Tamar's spot hasn't been filled. It's more likely the chemistry the four co-hosts have today is strong enough to keep the show afloat. Producers are probably testing the waters and trying to figure out if there's still a need for a fifth host. In the meantime, the girls are just keeping it real.
Please fill in your e-mail so we can share with you our top stories!