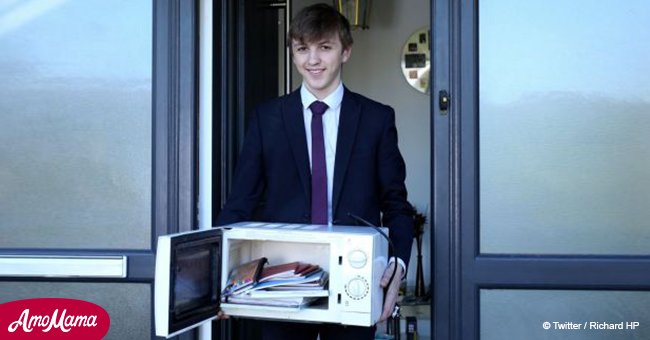 School banned bags, but one boy didn't lose his head and used an improvised means to carry stuff
A school has prohibited bags for health and security reasons, so a student named Jacob Ford turned up carrying books in a microwave.
The sixth formers at Spalding Grammar School were requested not to carry bags between classes, but Ford, 17, couldn't help contradicting the policy, as reported by Daily Mail.
According to the school, the "injury was being caused to younger students as a result of sixth formers carrying ever-larger bags on their shoulders."
The new regulation says: "Bags of any size may be used to bring books and kit to and from school, but bags are not permitted in lessons during the day. Pupils are encouraged to carry books by hand for a maximum of two lessons at a time."
Follow us on our Twitter account, @amomama_usa, to learn more.
To arrange a silent protest, Ford used a wicker basket and a microwave to make a point after a petition was begun.
Ford also wrote a 3,000-word essay titled: "Bags in Sixth Form - My Thoughts and A Potential Solution" in which he states a compromise could be made.
He then gave the essay to headteacher Steven Wilkinson and other members of staff.
Using his cell phone, Ford updated his mother Tracy about his "treatment." When the school learned about it, they ordered him to hand over his mobile phone.
The A-level student, however, ignored and he ended up being suspended for two days.
"I think Jacob's protest has been very peaceful and I believe he should have his say," Tracy said.
"At the end of the day, I believe in freedom of speech and so I'm very proud of him for standing up for something he believes in. Microwave or no microwave."
A petition began online days after the policy was implemented.
"By not permitting backpacks students are unable to carry revision materials to and from school with ease and therefore grades may dramatically decrease," said Hannah Catterall, who started the petition.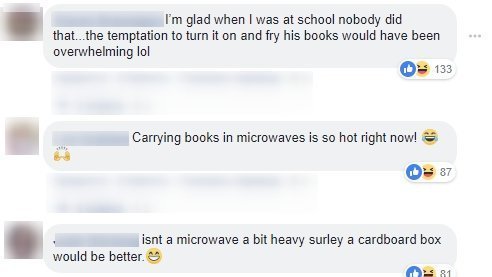 Source: Facebook/Daily Mail
After gaining 463 signatures, the petition was removed days later. A lot of parents slammed the rules via social media.
Bridget Allan, a mother of two children at the school, said, "I was outraged when I heard about the ban. I think it is ridiculous."
"How can you even get to places on time with all the right books, let alone do things like sanitary towels. This is something all of the girls and female teachers are talking about."

Source: Facebook/Daily Mail
Daily Mail reported that the school has refused to comment or give further details of the uniform policy.
Its website outlines a uniform policy for the sixth form for both male and female students but does not discuss bags at all.
Please fill in your e-mail so we can share with you our top stories!