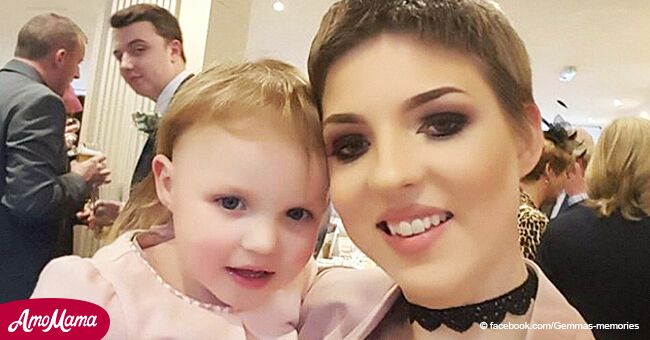 Heroic mother dies after pausing cancer treatment to deliver her baby
Most mothers would do anything for their children, and this English woman who put her unborn baby's live above her own is another proof of this. Gemma Nutall just lost a four-year-long battle with cancer.
29-year-old Gemma Nuttall, a mother-of-one from Helmshore, England, died after she fought several types of cancer for years, leaving behind a 4-year-old daughter and a devastated mother who did everything in her hands to save her.
After a massive crowd-funding that caught the attention of Hollywood superstars Kate Winslet and Leonardo DiCaprio, who not only contributed for the expensive treatment but used their platforms to spread the word about the case, Nuttal's family were surprised when she couldn't keep going.
Nuttal was diagnosed with ovarian cancer in 2014 when she was 16 weeks pregnant with her first child, and she had a very difficult decision to make.
Read more on our Twitter account @amomama_usa
"Let's truly do our best to keep her alive for her 3-year-old daughter Penelope, who loves and needs her Mummy so much. We might be able to save her life with these desperately needed funds for this essential treatment. So spread the word out there!"
-Kate Winslet, Go Fund Me!, October 22, 2016.
THE FIRST OF MANY PROCEDURES
In order to have her malignant tumor in Nuttall's ovary, the doctors explained to her that she was going to interrupt her pregnancy, but her decision was to postpone the intervention and the chemotherapy until she delivered her baby.
Nuttall knew what was at stake when she decided to go on with her pregnancy despite the urgent need to receive treatment, as every minute counted, but she had no doubt in her heart that it was the right thing to do.
Unfortunately, the tumor grew alongside the baby she had in her womb, and by the time she reached the 36th week of her pregnancy, the doctors had no option but to sent her to the operating room to take both the tumor and the baby out.
First, the doctors performed a C-section on Nuttall, who chose to stay awake during the procedure to have a first look on her baby Penelope, and then she was given general anesthesia to extirpate her tumor.
CANCER WAS SPREADING
The weeks that followed Nuttall's surgery, the new mother had to undergo chemotherapy and radiation, only to discover that her cancer was spreading and she had another tumor located on her cervix.
Once again, the doctors managed to successfully remove the new tumor, and Nuttall was believed to be out of risk, until April 2016, when she received her third cancer diagnosis, this time being her brain and lungs the affected organs.
These were very frightening news to hear to Nuttall and her family, but her mother Helen Sproates was determined to save her daughter's life, and she wasn't going to let money be what prevented this from happening.
STARS JOIN THE CROWDFUNDING CAMPAIGN
Sproates managed to attract much attention to the crowd-funding campaign she started on October 2016, and she soon had the support of the "Titanic" starring couple Kate Winslet and Leonardo DiCaprio.
"I have been in communication with Gemma and her lovely mum Helen, for a while now. And we are all so thrilled that we were able to send Gemma off to the Hallwang for her first round of treatment," wrote Winslet.
"I will continue to assist with her costs, but we do still badly need your donations," wrote the 43-year-old Oscar-winner to inspire others to join and support Nuttall to help her overcome her illness.
AN UNEXPECTED RELAPSE
Nuttall kept fighting and for a while, it looked that she was beating cancer, but in 2018 the doctors discovered that a new tumor had grown in her spine, and the cancer was spreading once more to her brain and lungs.
The persistent illness finally was too much for Nuttall's body to resist, and on October 17, 2018, Sproates took to Facebook to deliver the heartbreaking news to all the people who were supporting and rooting for her daughter.
"It is with an utterly broken heart that I have to tell you all that my beautiful warrior lost her battle early this morning. We fought so hard but we just couldn't do it anymore. I am one very proud but devastated mum right now," Sproates wrote.
IS THERE ANYTHING A MOTHER WOULDN'T DO TO PROTECT THEIR CHILDREN?
33-year-old Texas mother Kharisma James didn't have time to think about it when she gave her life to save her two children and one of their schoolmates from being run over by a car.
When James noticed a disoriented driver coming in the children's way, she had no alternative but to jump in front of the car to try to slow it down, and she died at the scene.
Although the children, aged 6, 8, and 10, sustained serious injuries, they are expected to make a full recovery, thanks to the sacrifice of this heroic woman.
Please fill in your e-mail so we can share with you our top stories!