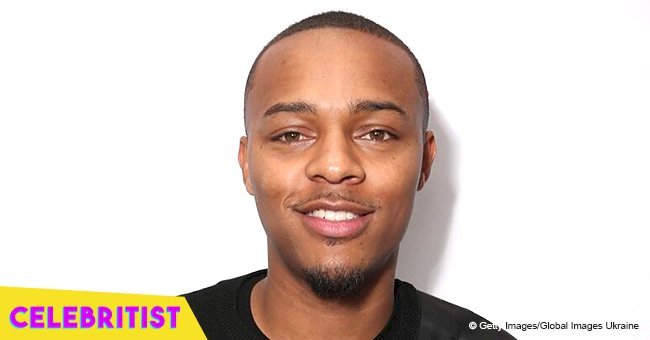 Bow Wow's daughter, 7, rocks her thick curly hair, wearing sequin tracksuit in photo with dad

It's been quite a rough year for Bow Wow, but the rapper took to Instagram recently to share a special father-daughter moment with his child, Shai Moss.
Bow Wow, 31, looked smitten with Shai as he held on to her hand. The rapper wore a white t-shirt and black sweatpants. He also went casual with a pair of slides, white socks, and a red scarf.
Shai, on the other hand, chose a more stylish look with a sequin tracksuit and trendy sneakers. Her curly, brown hair was also styled beautifully to one side.
Bow Wow informed fans in the caption that he got to achieve something he has always wanted to, and used the opportunity to thank his baby mama, Joie Chavis.
"I teared up before I took the stage! I accomplished what I always wanted and that was for my baby to see her daddy hit the stage. My lil diva. Thank you @joiechavis for everything you do. My lil princess. Love you phat momma."
Despite once denying that he has a daughter, The "Bounce With Me" rapper has grown quite fond of his only child and now flaunts her regularly on social media.
In a June interview with Rolling Out, Bow Wow credited his daughter for changing his attitude toward women. The "Like Mike" actor, who does not have the best reputation with his numerous Exes, admitted:
"After I had my daughter, I just started looking at women differently. Like I wanted to make sure they were ok and I would make sure everyone with me respected the girls around. I just started treating them with more respect and paying more attention to my intentions with them."
Bow Wow also said the seven-year-old helped him treat his current girlfriend, Kiyomi Leslie, with more respect.
"Even with Kiyomi when we first met I wanted her to know that I wasn't just trying to 'hit' or take advantage. I wanted to make sure she was ok," he said.
Sadly, Bow Wow revealed in August that he and Kiyomi had lost their unborn child, a son. The now-deleted tweet read:
"Don't really care. The media crucifies me. I'm the most hated. Every girl I gave my heart to it failed. My dad is an alcoholic and is now sick. I lost my son this year! I'm over everything. Mentally I feel detached I'm in so much pain bro."
Please fill in your e-mail so we can share with you our top stories!