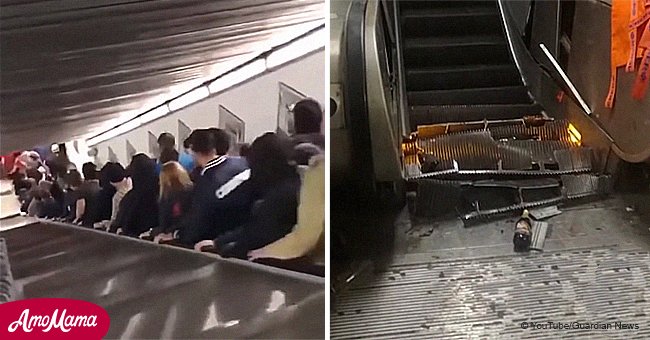 Escalator lost control, throwing passengers at each other with striking speed
An escalator at the Repubblica metro station in Rome sped up and send more than a dozen people hurling to the ground.
Two people were injured in the incident and Rome's provincial fire chief, Giampietro Boscaino, said seven people were in critical condition.
Read more on our Twitter account, @amomama_usa. Footage of the incident can be seen below. Boscaino added:
"The total number of injured is 20, and the others are less severely injured. The scene that we found was people piled up at the bottom of the escalator."
He added they were "on top of each other, looking for help." It was later confirmed that the escalator had malfunctioned.
Scenes of the incident were shared on Twitter and show "mainly visiting Russian football fans" piling on top of each other at the station.
As reported by Daily Mail, eyewitnesses said the scene resembled something from an apocalypse film.
Jayme Manocelli wrote in a tweet that "part of one man's foot was cut off," and added this was enough reason for people to take the stairs.
Some of the fans were lucky enough to only suffer minor injuries: Scraps, bruises, and twisted ankles.
It is believed that the football fans were rowdy and jumping on the escalator, which caused it to malfunction.
First responders rushed to the scene and more than 100 firefighters assisted with getting the injured fans out of harm's way.
Back in August, a senior woman from China's Shandon Province lost her balance while on an escalator, taking her grandchildren tumbling down with her.
The family came through the incident unscathed, Tao Shu'an, a resident who came to the family's aid, injured her leg and was rushed to the hospital. Read the full account here.
Tao Shu'an was later hailed as a hero for risking her life, and it was thanks to her efforts that the senior woman and her children only walked away with minor injuries.
Please fill in your e-mail so we can share with you our top stories!